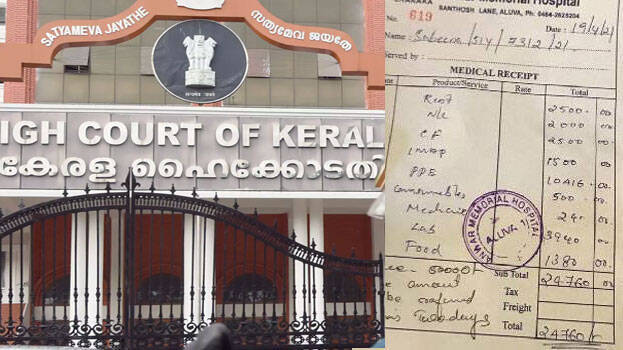 ​​​​​THIRUVANANTHAPURAM: The Kerala high court has said that the private hospitals in the state are charging exorbitant rates for covid treatment, which cannot be justified in any manner. The court which pointed out the bills charged by various private hospitals in the state asked how a hospital could charge Rs 1,353 just for rice soup. "The same hospital has charged Rs 25 for just one dollo tablet. The court has received the report of DMO over the incident of exorbitant rates charged in Anwar hospital," the court said.
Meanwhile, the private hospitals have fiercely opposed many of the recommendations in the government order to reduce treatment costs. They also added that the recommendations are not practical and the government is not giving any subsidy to them. Whereas the MES hospital has said that it is ready to provide treatment at the cost determined by the government. They also added that even though the recommendations would lead the hospital to severe loss, they consider the treatment as part of a service that should be undertaken to the public during these pandemic times.

The court which said that there is no rich-poor divide during the pandemic times, also added that the government order will continue to exist. The court has also given the strong direction to DMOs to take stern action on complaints of exorbitant treatment costs. The government has also informed the court that it will take due action.
With this the government has issued an order specifying the unified rates at which private hospitals can charge from covid patients. The government has informed the high court that it has issued a comprehensive list of treatment costs which includes even the charges to be imposed on PPE kits. When the government order was read in the court, the bench prima facie congratulated the government.