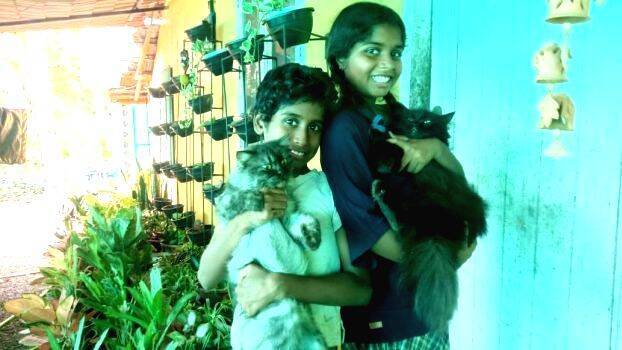 KIZHAKKAMBALAM: For eleven days natives of a place was searching for Betty, and when the locals finally found her and brought her home, her son Buji came running and hugged her mother. Who are Buji and Betty? They are Persian cats that lives under the care and love of Mary Sheeba and her children, who live in a rented house near Matappillikurish in Vadavukode.
Betty was bought from Muvattupuzha three years ago for Rs 5,000. Buji was born in the first birth. The other three were given to many. Betty went missing on April 29. Betty fell from an auto that fell into a gutter on the road in Peringala while being taken to mate with a cat at a friend's house in Kakkanad. Mary Sheeba's children Devika and Deepak were in the autorickshaw. The two searched for hours after Betty fell on the road but could find her. When all was lost, they contacted YouTube and Facebook community in Peringala 'My Own Peringala'.
The locals came to know about Betty's story and they took over the search. They searched through social media and beyond.
Peringala natives Ali Perumamattam, OK Shamir and Muhammad found Betty. Mary, who runs a flower nursery, announced that anyone who finds Betty will be rewarded with 100 different types of 'Pathumanichedi' (Ten O'clock plant) and a kitten. Mary handed over the plants to people including Facebook and YouTube channel admin Ibru who came with Betty. When Betty gives birth to another baby, it will also be gifted.
Price of Persian cats
In Persian cats, the dolphin breed is the most expensive. The Persian Blue baby is priced at Rs 8000 - 9000, White at Rs 5000 - 6000 and Black at Rs 7000 - 8000. They need to be fed only twice a day. Vaccines and deworming tablets should be given every year. The cat will give birth twice a year.