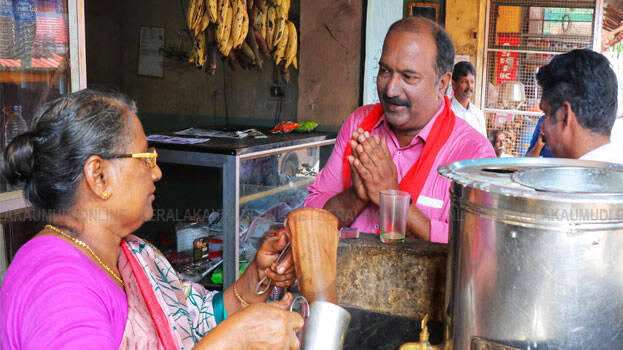 ​​​​​​KOLLAM: The people of Kollam are happy over the ministership of K N Balagopal who is known to them from his student politics days. Balagopal, the son of P K Narayana Panicker and O V Radhamani who are Pathanamthitta natives, began his political career from the land of Kollam. The old party members who were active in student politics, remember Balagopal as a student leader who gave prominence to fights and studies.
Balagopal entered into student politics when he joined SN College, Punalur for his graduation. In 1982, he became the magazine editor in SN College and the next year he became the college union chairman. In 1985 when he became a member of SFI's Kollam district committee his fame echoed across the district.
The youth leader who was known for his tit-for-tat attitude became an unavoidable presence in the students' agitations and protests. He faced the wrath of police personnel multiple times. In 1993, when he was the state secretary of SFI, he committed a nine-day hunger strike in Thiruvananthapuram. On the ninth day, SFI activists conducted a protest march to the secretariat under the leadership of Balagopal. His hand got fractured in the police lathi charge which occurred at that time. After being hospitalized for days in the hospital, he went to the exam hall with a plastered hand. He was lodged in jail multiple times in connection with various protests.
Balagopal was also studious in his academics. He completed B.Com from Punalur S N College and M.Com from MG College with high marks. Later he also did LLB and LLM from the Law Academy. After his studies, he also got placed in a public sector bank, but he decided to continue in organisation politics. His dream of completing a PhD still remains unfulfilled.
During the period of internal factionalism when Balagopal sided with VS, he was also the favourite of Pinarayi Vijayan. Even when he was leading the party, after becoming its state secretariat member, he always took pride in himself for being a member of SFI. he still keeps his ties and relations with his old comrades who stood along with him during the student politics days. All of them actively campaigned for Balagopal in Kottarakara during the assembly polls.
From the date when he was chosen from Kottarakara, Balagopal has graced his constituency with his omnipotent presence. He was very fond of drawing cartoons since childhood. Some of them were also printed in the college magazine. The cartoons drawn by him during the intervals of party meetings had become a point of laughter and sensation among workers and party leaders alike.
Balagopal got elected as a Rajya Sabha member when he was serving as the political secretary of V S Achuthanandan. In 2015, he became the secretary of CPM's Kollam district committee. From 2018 onwards, he was serving as a member of CPM's state secretariat.