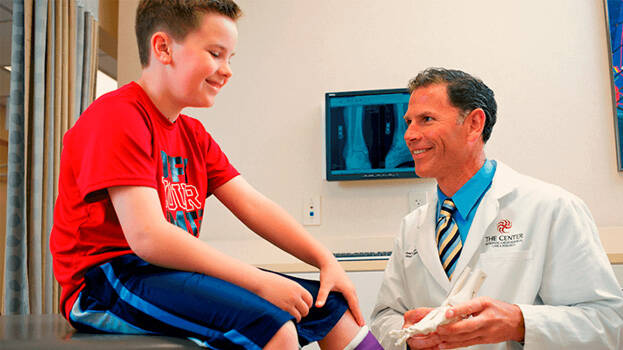 Musculoskeletal disorders in children can cause significant concern for the parents; whilst most of these disorders are benign, there are some conditions which need early diagnosis and proper treatment.
New born
Deformities of the limb or spine can occur in the newborn period. Club foot is the commonest orthopedic deformity seen in clinical practice. The foot and leg resembles a golf club and hence the name. In some babies this deformity is mild and can be treated with passive manipulation. Stiff and severe deformities are treated with plaster casts and minor surgical procedure.
Another condition in the newborn babies that requires early recognition and treatment is hip dislocation (also called as 'Congenital hip dislocation'). Luckily this condition is not that common in our population. If detected early, most cases can be successfully treated with simple devices. Unrecognised hip dislocation in walking age children presents significant problem and almost always requires major surgery procedures.
Toddlers and young children
Bow legs and knock knees are common presenting complaints with which children are brought to an orthopaedic surgeon. These conditions usually resolve without any treatment (by 2 years for bow legs and 5-6 years for knock knees). Vitamin D deficiency can cause persistent deformity and hence adequate dietary intake of vitamin D and sunlight exposure are essential in growing children. Similarly, flat foot (absent arch of sole of foot) is very common in this age. Many times, the foot is very flexible and corrective footwear are seldom required.
Parents are alarmed and stressed when their children complain of pain in the legs. This pain usually occurs at night and can be present for several weeks or even months. The pain usually responds well to massaging or stretching exercises. This condition is called 'Growing Pain'; there is no definite explanation for this condition but the condition is real and stressful for the child and parents. Absence of fever, weight loss and swelling of limb joints to the benign nature of the situation. Usually, these children are very active in the day time and this should be reassuring. Unexplained pain, fever, weight loss, swelling of joints etc, are red flag signs necessitating prompt evaluation. Juvenile arthritis and certain malignancies can present with these symptoms.
Limping in children is very common in the age of 2 – 6 years. The child walks in a particular pattern to avoid pain in the affected leg. This is usually sudden – most often after getting up in the morning. Most often the cause of limping in children is a condition known as 'Transient Synovitis of Hip'. This is due to fluid collection in the hip joints secondary to a viral illness which itself may be mild. The condition resolves spontaneously with adequate rest and simple medication. Recurrent episodes of limping warrants detailed clinical examination, x-rays and blood tests. Repeated episodes of limping can be caused by a condition called 'Perthes' disease'. This condition is usually seen in boys in the age group 3 – 8 years. This disease is characterised by damage of the upper part of the thigh bone which forms the ball of the hip joint. The damaged bone is replaced by normal bone by the process of regeneration but the healing time can be 18-24 months. In children < 6 years this condition has a favourable prognosis; older children may need surgical treatment to prevent arthritis of the hip joint later on.
Fractures
Fractures are quite common in children. Most of these injuries are treated by simple methods like plaster cast application. Fractures that affect the growing part of the bone (usually the ends of long bone), fractures of the lower limbs especially the thigh bone etc. may need surgical treatment.
Fractures around the elbow needs special attention. These injuries can be associated with significant swelling in the elbow and forearm causing compromise to the blood circulation to the limb. Early recognition can prevent disastrous complications. Also, vigorous physiotherapy following elbow fracture healing is not advisable. Passive forceful stretching and massage can aggravate stiffness of elbow joint.
Adolescents
Deformities of the spine is commonly seen in adolescents especially girls. In some cases the deformity can worsen rapidly and may need surgical correction. Use of spinal braces can be effective in some cases to prevent the progression of the curve.
Displacement of the upper part of the thigh bone (also called 'slipped upper femoral epiphysis) usually occurs in adolescent boys and girls. This condition is characterised by pain in the groin and abnormal walking pattern. Early surgical intervention is needed to prevent worsening of the slip.
Juvenile arthritis - Arthritis or inflammation of the joints can affect children also. In some cases the disease is restricted to a few joints, where as in some the condition can be severe and mutilating affecting multiple joints. Tissues other than joints can also be affected. Arthritis in children needs aggressive treatment to avoid bone and joint deformities.
Musculoskeletal Tumors - Aggressive bone tumors (especially sarcomas) can affect children. These tumors can spread to other organs (especially liver and lungs) fairly rapidly and early aggressive treatment is needed. In most cases pains in the affected region is the only early symptoms. Prone pain can be the presenting symptoms in certain blood cancers. Benign bone tumors are also seen in children that needs observation and reassurance to the parents.
KIMSHEALTH has a dedicated pediatric orthopedic unit which treats newborns and children with complex orthopedic problems including birth defects, neuro-muscular disorders, scoliosis, limb deficiencies etc. The department is well supported by pediatric sub-specialties and dedicated paediatric rehabilitation and physiotherapy specialists.
Dr Vinod Krishnan V
MBBS, D ORTHO, DNB ORTHO, MRCS (Edinburgh) Consultant – Paediatric Orthopaedics KIMSHEALTH