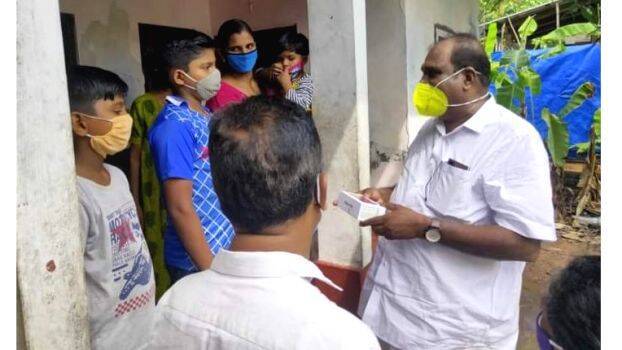 PALLURUTHY: An eighth grader from Chellanam, who complained to Minister V Sivankutty that he does not have a mobile phone to attend online class, got a new mobile. When MLA Maxi went directly to his house on the instructions of the minister and gifted the phone, Joseph Don's eyes were filled with joy. He did not expect to get it so fast!
Don is the son of Joseph, a fisherman from the Arakkal house in Chellanam. Their house is by the beach. Don's house was also flooded when the shoreline sank a week ago. Mobile phones were also among the items that were washed away. The online class is set to begin on Tuesday. Don was upset when mobile phone was lost. Joseph's father, whose income stopped due to Covid, was not in a position to buy a new mobile immediately.
When he saw the program 'Manthriyod Samsarikkam' (talk to minister) on the TV channel on Saturday, Don wondered if he should tell V Sivankutty, the Minister of Public Education, directly about the mobile. Though he was worried whether this would materialize, the minister assured that a solution will be found. But Don didn't think it would have this much speed. Soon after the TV show, സinister Sivankutty called Kochi MLA KJ Maxi and gave instructions. He said one thing in particular: Give it to him directly! When Don opened his eyes on Sunday morning, the MLA was in front of his with the mobile. Don's family was also surprised.

Joseph Don is an eighth grade student at Fisheries School in Thevara. Not only in Don's house, but in many homes in the flood-hit neighborhood, children's learning aids, including mobiles and computers, were lost. In some homes, volunteers provided study aids, but many did not get it. They do not know how to attend the online class when the new academic year begins. At the behest of the minister, the MLA was accompanied by PA Peter, PR Shajikumar and S Pamma Sebastian to give phone to Joseph Don.
Minister's gift to Gopika
Public Education Minister V Sivankutty also came to the relief of Gopika from Thenmala who complained during a live program on the channel that there is no mobile phone for online class. The minister had called Punalur MLA PS Supal during the channel's program and directed him to take steps to deliver a phone to Gopika. The minister informed Gopika about it and gave the phone number of the MLA to her. Gopika is now happy.