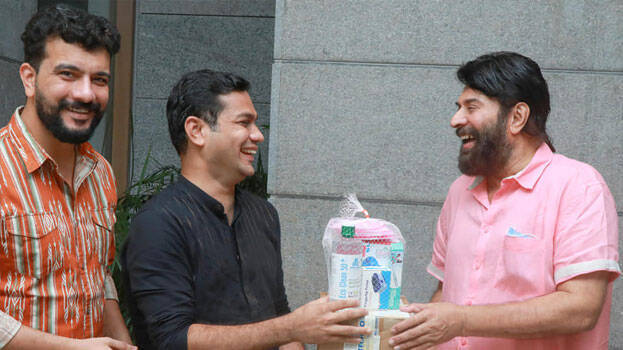 KOCHI: Actor Mammootty came forward supporting Hibi Eden MP's drug distribution scheme being implemented in Ernakulam Parliamentary constituency. The MP had distributed medicines worth Rs 29 lakh in 40 days.
Mammootty handed over vitamin medicines, pulse oximeters for immunization workers and sanitizers to be distributed to Covid positive patients. Hibi went to Mammootty's house in Kadavanthara and collected the medicines. Actor Ramesh Pisharody was also present.
Mammootty had the other day inquired the details of the project. It was Hibi Eden who first kick started a help desk to collect medicines for Covid positive patients under the leadership of the people's representative. Medicines for Covid patients will reach home if called the help desk between 9 am to 9 pm. Medicines for other ailments regularly taken by the Covid positive patient and his family members will also be delivered. A doctor on call project was also introduced to call back those in need. The doctor on call is implemented in collaboration with Futureace Hospital in Edapally and Kinder Multispecialty Hospital in Kalamassery.
Doctors, IT professionals and professional college students are serving at the MP's Covid Help Desk. The call centre is equipped with an interactive voice response system.
Under the Ernakulam Parliament, the medicine will be made available to those in Paravur, Kalamassery, Vipin, Ernakulam, Kochi, Tripunithura and Thrikkakkara assembly constituencies. Youth Congress activists deliver medicines to homes.
The drugs were so far supplied to 3624 patients. 2178 patients have used the doctor-on-call service, said the MP.