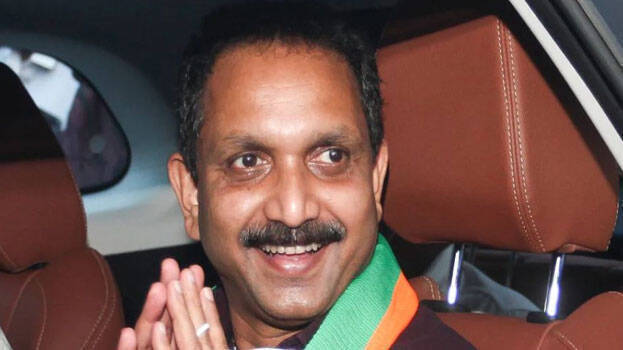 KASARGOD: The crime branch will probe the case accusing BJP state chief K Surendran for paying bribe to namesake candidate K Sundara to withdraw from the fray. The case is probed by a team led by Kasargod district crime branch DySP.
The Badiyadukka police registered a case against Surendran yesterday. The case was first registered against Surendran under section 171 (b) of the Indian Penal Code. However, by night, other charges were added. Surendran has been charged with kidnapping and threatening while in custody.
The case was registered against Surendran on the complaint that he paid a bribe to BSP candidate K Sundara from Manjeswaram to withdraw his nomination papers in the assembly elections. The case is that Rs 2.5 lakh and a phone was given to Sundara. More charges were added against Surendran on the basis of Sundara's statements. The Badiyadukka police had the other day taken Sundara's statement as part of preliminary investigation.
Meantime, the Enforcement Directorate has taken over the controversial Thrissur Kodakara hawala heist case in Thrissur. Procedures for this have been initiated at the ED headquarters in Delhi. An IRS officer of the rank of deputy director is in charge of the investigation. The case will be preliminarily investigated and further investigated.
Kochi unit team is investigating the case. As it is a case of money laundering, it will come under the purview of the ED. Kerala police is investigating the case. The police are blamed for the delay in catching the accused in the first phase.
Only Rs one crore 30 lakh have so far been recovered from the interrogation of the accused, including their relatives. Although 21 suspects have been arrested in the case, three who was under treatment for Covid has not been questioned. The move is to question Rasheed, Basheer and Salam in jail.
The investigation team is hoping to get more information from interrogating Rasheed, who leaked information to the accused about the money in the vehicle. Meantime, the questioning of BJP leaders to find out the political connection in the case will continue today.