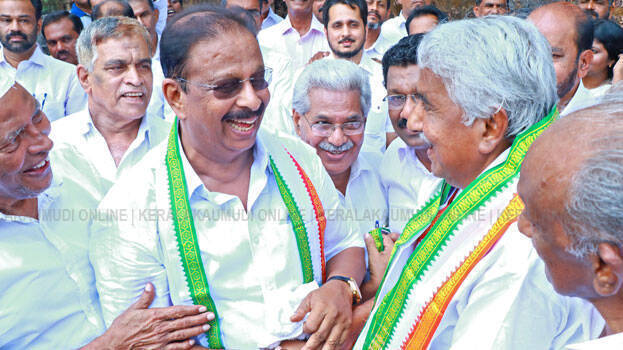 THIRUVANANTHAPURAM: The Congress High Command is preparing for a major change in Kerala soon after announcing K Sudhakaran as the KPCC chief. The AICC has directed Sudhakaran for a total revamp in the party in six months. There will be a drastic change in all the jumbo committees in KPCC. There will be changes in fourteen DCCs also. There will also be a significant reduction in the number of members in district committees.
The agreement between Sudhakaran and the high command is that all office bearers should be given a target and it should be evaluated at regular intervals.
The high command will take the initiate in trying to reconcile the leaders who were upset over the announcements of opposition leader and KPCC chief. Rahul has informed Sudhakaran that he should move forward only after taking into confidence senior leaders. Sudhakaran's first attempt would be to keep Oommen Chandy and Ramesh Chennithala together. That is why Sudhakaran did not respond to repeated questions on the disapproval of the leaders.
Sudhakaran's decision is to soften his open reactions and working style. Senior leaders have warned him of the dangers that arise due to it. P T Thomas and T Siddique chosen as working president and retaining Kodikunnil Suresh was after considering communal equations as well.
There are indications that K V Thomas dropped from the post of working president may be made UDF convener. A section has also raised the name of K Muraleedharan for the post. Even the Muslim League, the Joseph faction and small parties in the UDF are happy with the arrival of K Sudhakaran. The allied parties are of the opinion that Sudhakaran at the helm will not only benefit the party but also the entire Front.