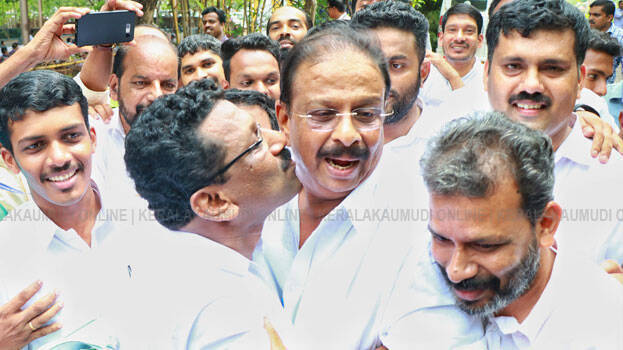 ​​​​​KANNUR: K Sudhakaran's political career is marked by undaunting fights against numerous political controversies. He has fought within and outside the party at the same time. And at last, he had reached KPCC also through such relentless fights. When the leaders came together surpassing group considerations to block Sudhakaran's entry to the KPCC, he came over them with his fighting nature.
When he set out to create an address for Congress in the strongholds of CPM in Kannur, Sudhakaran has also faced battles within his own party. When he reached the post of president from the position of working president, there are many challenges ahead of him but Sudhakaran has expressed confidence in addressing them.
Born in 1948 as the son of Nadalil Ramanunni and Madhavi near Edakadu in the Kannur district, Sudhakaran became active in school politics through KSU. When Congress witnessed its first split in 1969, he stood with Congress(O). In 1973, he became the state president of the student organisation NSO. He later reached the Janata party from Congress(O). He also worked with veteran leaders like K Gopalan and Kamalam when they formed a new party called Janata(G).
Sudhakaran who did his post-graduation in history and completed LLB by this time reached Congress in 1984. In 1991, he was elected as Kannur's DCC president through the organisation polls which was held under the supervision of former Prime Minister Narasimha Rao. During his tenure as DCC president, he transformed Kannur Congress into a cader party, astonishing even the CPM leaders of the district.
Gaining strength from challenges
Sudhakaran went forward in politics by constantly taking up challenges. His debut in assembly elections was in 1980, from the Edakaddu assembly seat. Later in 1982, he again won from Edakadu and in 1987, he repeated victory from Talassery. In 1990, he lost the assembly polls from Edakaddu for just 219 votes. Following this, Sudhakaran waged a legal battle against CPM alleging that it has done more than 15,000 bogus votes. As he was able to prove the presence of 3,000 bogus votes, the court cancelled the victory of O Bharathan and declared Sudhakaran as the winner. He later became MLA from Kannur in 1996, 2001 and 2006.
He also became forest minister in the A K Anthony cabinet. He also won from Kannur in the Lok Sabha polls held in 2009. But in 2014 he lost the Lok Sabha polls from Kannur and the assembly elections from the Udduma constituency. He again went to Lok Sabha from Kannur in 2019.
Despite having no positions in the party, Sudhakaran was always inside the crowd of party workers. He always filled the workers' minds with enthusiasm whenever he stood up to address them in party venues.