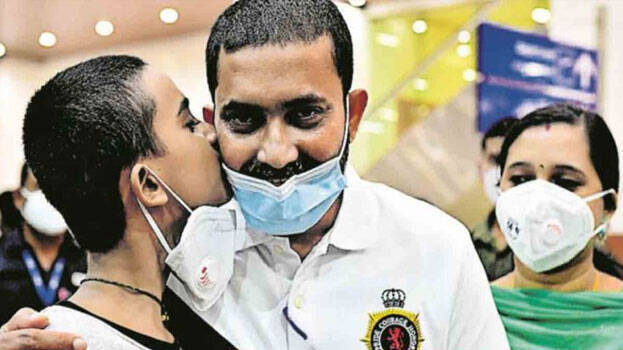 KOCHI: Becks Krishnan, a native of Nadavaramba in Thrissur, released from jail with the decisive intervention of businessman M A Yusuff Ali, has returned home. Krishnan who left Abu Dhabi at 8.20 pm last night landed in Kochi early Wednesday morning at 1.45 am. His son Adhwait and wife Veena were at the airport to receive him.
Becks Krishnan, 45, was sentenced to death by the United Arab Emirates Supreme Court, having been found guilty of killing a young Sudanese boy when he recklessly drove and rammed his car into a group of kids in September 2012.
His crime was corroborated by CCTV footage and further established through eyewitness accounts. Since the death sentence, Krishnan's family and friends had been relentlessly trying for his release but without any success.
With the victim's family having already moved back to Sudan, a discussion on pardon for Krishnan was not possible. As a last-ditch effort, Krishnan's family approached businessman and philanthropist M A Yusuff Ali, chairman of Lulu Group.
Yusuffali went about getting the details of the case and soon got in touch with all stakeholders. In fact, the business tycoon provided money for the victim's family members to fly from Sudan to Abu Dhabi. For over a month extensive discussions were held with them to arrive at a compensation amount and secure a pardon for Krishnan.
Finally, in January 2021, the victim's family agreed to pardon Krishnan and Yusuff Ali paid AED 500,000 (Rs 1 cr approximately) as compensation in the court to secure an early release. Soon after his release, Krishnan said "it's a re-birth for me, as I had lost all hope of seeing the outside world, let alone a free life. My only wish now is to see Yusuff Ali once before flying back to my family.
Yusuffali thanked the almighty and the benevolence of the visionary rulers of UAE for Krishnan's release. He wished Krishnan a happy and peaceful life ahead.