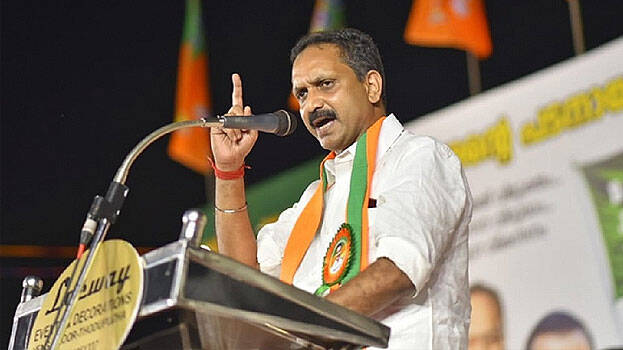 BJP state president K Surendran came up with vague responses to media queries regarding allegations that he paid money to K Sundara, a candidate in Manjeswaram, to withdraw his nomination papers. Surendran came with another question to the journalists' questions by saying it is said that the money was given by the BJP and whether there is a person named BJP.
"Is there anyone named BJP? The question is who paid Sundara. Who gave money to Sundara? It is said the BJP had paid. Can the BJP pay? Saying 'including a person' doesn't matter. You can give it in news. It won't stand in court", the BJP state president said.
Surendran also criticized the media on the issue. The BJP president also alleged that all the allegations leveled against him were the work of the media and the CPM. Surendran says that the media are also agents of the CPM and that the media works for the party. He says there are more than 300 cases pending against him and the decision is to deal with all of them.
'The media need not favor me. I can not influence you by giving money, advertisements and gifts. Pinarayi Vijayan can. I know what you've removed the gold smuggling case news. I've learned how he became a captain for you. I'll say the rest later. I did not come to argue with you. I came to talk about politics, " Surendran said.