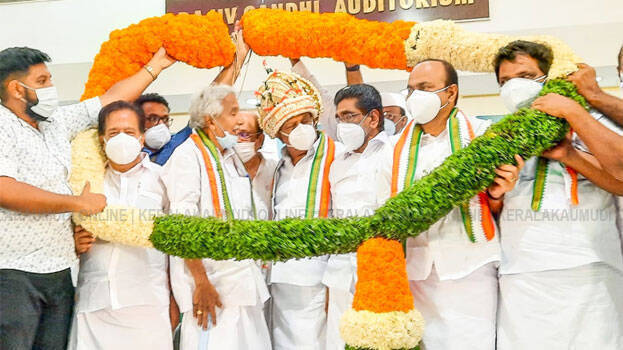 THIRUVANANTHAPURAM: Former opposition leader Ramesh Chennithala expressed his complaint publicly stating that the party neither supported him nor protected him in the attacks and criticisms levelled by the CPM. He said this openly in the presence of leaders present at the function of K Sudhakaran taking charge as KPCC chief at the Indira Bhavan.
Fake stories are being fabricated to destroy the Congress in Kerala. He said that he was pained after seeing yesterday's newspaper. K Sudhakaran is taking over as KPCC chief only today. The CPM state secretariat meet said KPCC chief is the tail of BJP and that he is going to join that party. I then felt to react against it. Chennithala revealed the pain he felt then when no one responded when criticisms were showered against him.
'I remember many of my friends posting against me when they said that I was a BJP member who had lived in Congress since time immemorial. It was with that attitude I spoke for Sudhakaran. That should be our feeling. We need to think that if an arrow is shot against K Sudhakaran, we all will bear the pain of it. We ourselves are our enemies,' he said.
Chennithala said Sudhakaran should not think that everyone who laughs at you is a friend. My experience is that those who praise us will not be with us. You should also remember that, he said looking at Sudhakaran.
Sudhakaran has the former experience of working as Kannur DCC chief. He is ready to do anything for the party. Chennithala reminded that when he and Oommen Chandy mentioned the situation where one not interested by Sudhakaran was made the chief of Kannur DCC, he changed his personal interest and accepted the decision.
The people's mandate would have been different had it not been for the last two years of Covid. Pinarayi's is the biggest corrupt government Kerala has ever seen. Stories of corruption are still coming out one by one. There are still many unsolved corruption stories to come. All these were ignored after attracting the media by giving advertisements worth crores. Will corruptions like tree felling happen without the knowledge of political leadership, asked Chennithala.
K Muraleedharan MP said that he agrees with everything Chennithala said. I understood this a long time ago. Ramesh Chennithala understood this only now. I was always indifferent to things as I had experienced this before. The words of both Muraleedharan and Chennithala raised laughter in the venue and in the audience.