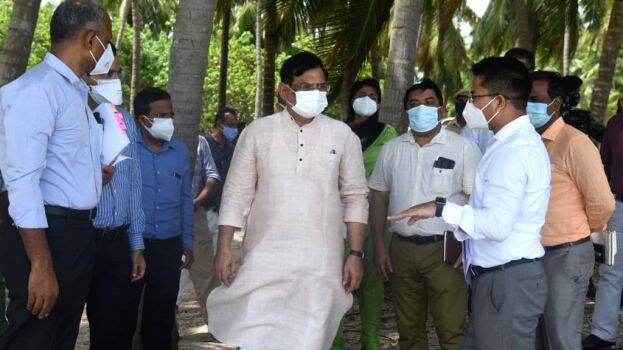 KOCHI: The process of land acquisition for Lakshadweep development has started in Kavaratti. Revenue officials surveyed the area south of Kavaratti and hoisted flags for the construction of a new AYUSH hospital and nursing home. These are places close to the PWD store, the children's park, the harbor and the electricity department offices. No final decision has been made as to where the hospital will be built.

Administrator Praful Khoda Patel visited the acquired areas. The newly constructed administrator bungalow was also directly assessed by him.
Meanwhile, islanders came to the scene on Wednesday saying the acquired land is in dispute. There are two houses in the acquired area. The owners complain that the land was given to them years ago.
The islanders say that this place, which is close to the sea, is not suitable for building a hospital. It is claimed that the salt storm will rust the hospital equipment.
Land acquisition was one of the reforms introduced by the administrator. Despite the protests, the proceedings were expedited with the visit of the administrator.
Daman Diu officials come up against Patel
Public Works Department officials in the Union Territory of Daman and Diu have written to Prime Minister Narendra Modi on May 12 alleging corruption by Lakshadweep administrator Praful Khoda Patel. In the complaint, it alleged that in 2016, construction contracts worth Rs 400 crore were given to those close ones and Rs 17.5 crore was embezzled to beautify the official residence. The letter is in the name of all officials in the Public Works Department.