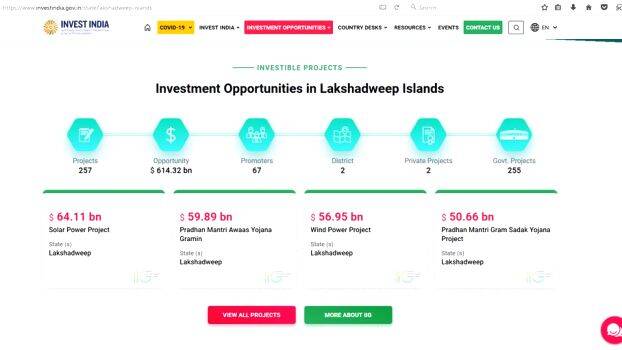 KOCHI: It is indicated that govt has planned incredibly massive development projects in Lakshadweep amid intensifying protests against the administrative reforms. The Central Government's Invest India website has advertisements for multi-billion investment opportunities in Lakshadweep with 253 projects in play. Of these, only two are in the private sector.
Solar power projects to be installed on all the islands are the largest among these. Other important projects are the Pradhan Mantri Awas Yojana Housing Scheme, wind power project and the Pradhan Mantri Gramsadak Yojana Road Scheme. The target is to complete the housing and road projects by 2025.
The website also has an Optical Fiber Connectivity project worth Rs. 2000. Investors have also been invited for major projects such as the construction of the Minicoy Fishing Harbor, the construction of the Kavaratti Kendriya Vidyalaya and the development of the Agatti Airport.
The protest will heat up
Criticisms that the administrator envisages development that does not take into account the land structure of Lakshadweep will only strengthen following the release of details of major projects. It is alleged that the reforms are aimed at subordinating Lakshadweep to private monopolies and destroy the fragile environment.
The power sector is the most costly for the island government. The government is in the process of privatizing it.