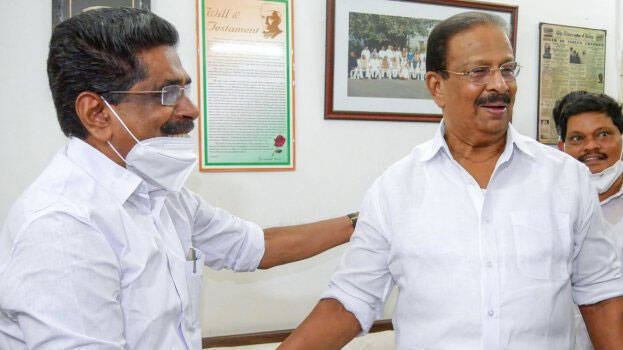 THIRUVANANTHAPURAM: Soon after K Sudhakaran took over as KPCC chief, informal discussions on a reshuffle in the state congress have begun. The main agenda before him is the re-oganisation at DCC level. Presently the DCC chief post is shared on a group basis in all districts. 'I' Group has nine DCCs in the state and 'A' Group has five.

Instead of group, performance excellence will be considered as important norm when choosing new chiefs. Steps for choosing chiefs have been entrusted on the five-member special panel. K. Sudhakaran has suggested that there should be people capable to fight the CPM leaders on district basis. The high command has suggested that priority be given to outgoing youth congress leaders.
It is heard that strong women may be given DCC chief post. Criticism was strong that women were ignored in the assembly elections this time. Talks are that women should be given due representation they deserve at the time of the reshuffle. It has been indicated that at least three women may take over as DCC chiefs. Presently only in Kollam, a woman is leading the congress. The leadership wants Bindu Krishna to continue as the chief. Women will be considered in all districts except Thiruvananthapuram, Ernakulam and Kozhikode.
Preference will be given to leaders who are known at the district level and have influence by name in all constituencies. Leaders who are able to react strongly through media and capable to present things will be considered. The leaders said representatives may also be considered for the DCC chief post. The list giving importance to youths will be released.
KPCC chief and working presidents were appointed in defiance of the directive that people's representatives should not engage in organizational activities. With this, it is expected that MPs and MLAs will also take over as DCC chief posts. The 'A' and 'I' groups are likely to hold tight until the last minute to give posts to those in their groups.
A person should be found to fill the vacancy of Lathika Subhash who resigned from her post. Discussions on this are progressing. Two women leaders from Alappuzha and Kochi are mainly considered for the post.