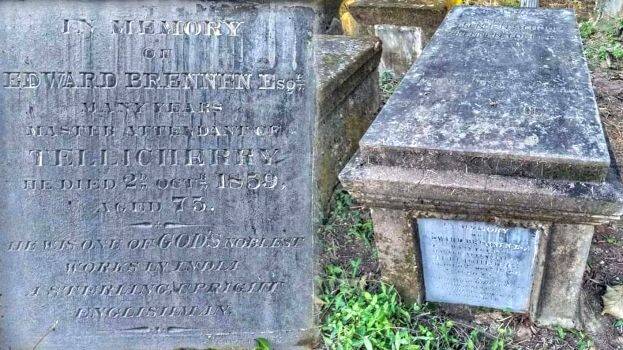 KANNUR: As the media is filled with the altercation between CM Vijayan and KPCC president Sudhakaran that took place half a century back in Brennan College, the stories of 'Brennan sayip', the founder of the college, flashes in the mind. Edward Brennan reached the shores of Thalassery after escaping a shipwreck. Dr. Punathil Kunjabdullah, a writer and alumnus of the college, described him as a 'compassionate man who was brought in by a shipwreck'. The story of Brenna, who was laid to rest at St. John's Church Cemetery in Thalassery, is two centuries old. He is a British man who arrived in Thalassery in the early 1800s, and died in 1859. He is 'Brennan sayip' of the natives.

A cabin boy on the ship
Brennan was born in 1784 in London. He joined the East India Company in 1810. Later he joined Bombay Marine Services. There he was a cabin boy on the ship. The ship crashed in the sea near the Thalassery. Brennan swam ashore. Later, he settled in Thalassery.
Tellicherry Poor Fund

In 1846 he formed the Tellicherry (Thalassery) Poor Fund Trust to help the poor. His first donation was Rs.3000. Eventually, he gave his total savings of Rs. 1,50,000 to the trust. According to his will, a 'free school' was established in Thalassery in 1861 to provide free education to the natives. This later became Brennan College.

In 1866, it was merged with the Basel German Mission School. In 1868 it became a high school. In 1871 the Basel Mission gave up the management. In 1883 it became a district government school. In 1884, was taken over by the Thalassery Municipality. Ten years later, it became Brennan college. It became the first college between Kozhikode and Mangalore. In 1949, the school was separated and relocated to Chirakkara. When the college was located to Dharmadam in 1958, the school returned to its old building.
Brennan's daughter

Brennan was thought to be unmarried. But he had a daughter in a woman named Flora, a native of Thalassery, says Dr A Valsalan, who studied about Brennan. He found the tomb of Flora Brennan at St. Stephen's Church in Ooty.
The tomb was established in 1830.