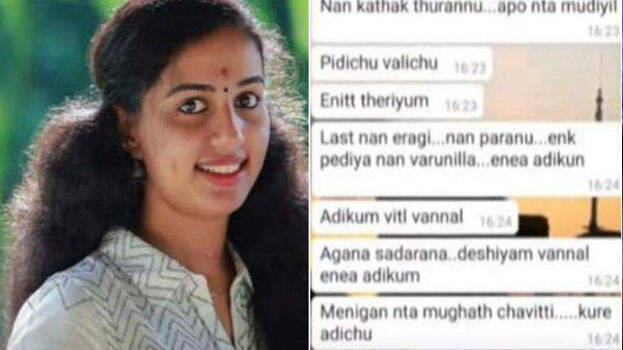 KOLLAM: Women's Commission member Shahida Kamal said that she has sought a report from Kollam Rural SP on the incident of a woman hanging to death at her husband's house in Kollam. The action was after the commission registered a suo moto case in the incident. Vismaya, a native of Kaithod in Nilamel took the drastic step at her husband's house Monday morning.
Vismaya was found hanging at her husband Kiran Kumar's house at Sasthanada near Sasthamcotta this morning. Her relatives alleged that it was a murder following dowry harassment.
Her family was informed about the death this morning. Following that, they reached Sasthamcotta from Nilamel. However, her parents said that her body was shifted from the house before they reached there.
S V Vismaya, daughter of Thrivikraman Nair and Sajitha, got married to S Kiran Kumar of Sooranad on May 31, 2020. Her relatives said that her husband used to harass her constantly in the name of dowry. She had the other day sent pictures of the beat marks to her relatives. Her relatives had exposed those photos. In this situation, her relatives alleged that they strongly suspect that her husband may have killed her.
In a message to her relative she asserted that he used to harass her brutally. He hurled abuses at her and her father in the name of the car given as dowry. He was not satisfied with the car given. When she tried to go out of the room, she was dragged by her hair. When she fell down, he stamped her on her face. In the chat she said that she faced severe torture from her husband. She had sent the pictures of the beat marks to her relatives.