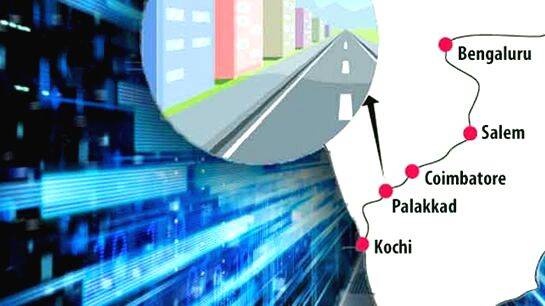 THIRUVANANTHAPURAM: The land acquisition for the Kochi-Bengaluru Industrial Corridor will be completed by December. The meeting chaired by Industries Minister P Rajeev decided to take over the land with the help of KIIFB and hand it over to the Kerala Industrial Corridor Development Corporation at Kalamassery.
95 per cent work has been completed to acquire 310 acres in Palakkad. Collector Mrinmayi Joshi said a public hearing has been started to take up land elsewhere. For this, Rs 346 crore was handed over to Kinfra.

Social impact assessment of land acquisition has been completed at Ernakulam. Collector S. Suhas informed that the public hearing will be held on July 8, 9 and 10. Acquisition of land will be done by excluding maximum number of buildings. Service sector industries that do not pose an environmental problem will be setup in Ayyampuzha.

KINFRA will create a dedicated web portal for facilitating the day-to-day evaluation and follow-up of the industrial corridor. Industries Department Principal Secretary Dr K Elangovan and KINFRA MD Santhosh Koshy Thomas were also present at the meeting.
Acquisition of 2220 acres
Palakkad District - Kannampra, Puthussery Central-600, Puthussery East- 558, Ozhalappathi 250 acres.
Ernakulam District - Ayyampuzha Gift City - 500 acres
Clusters starting in Palakkad
Food industry, pharmaceuticals, light engineering, botanical products, textiles, solid waste recycling, electronics, IT logistics and automotive.
Expected Employment - 83,000