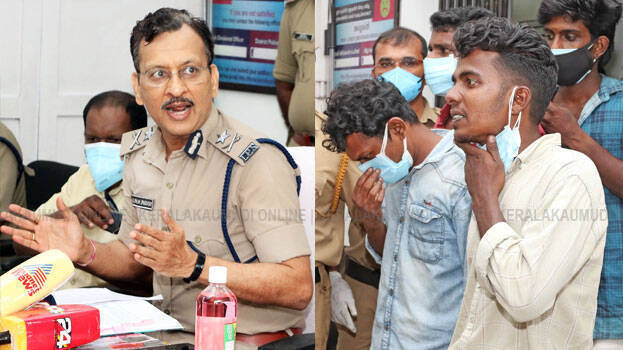 THIRUVANANTHAPURAM: It was a matter of pride for the police to nab the accused involved in attacking the officials of AG's office, at the earliest. The attack was towards the officials, natives of North India and their families. However, the police did not have any clue about the accused. The only way for the police to reach to the accused was the complainants statement that they could identify them. The police were under the impression that the safety of women in Kerala would be questioned in other states at every moment of the delay in apprehending the accused. Soon after the complaint was lodged, City Police Commissioner Balram Kumar Upadhyay formed a special investigation team taking into account the seriousness of the incident. He later met the complainants and convinced them the progress of the probe and gained their faith.
The officials Ravi Yadav and Jagat Singh told the police commissioner that they were satisfied with the police for reaching the spot within minutes and for taking them to the hospital. Meanwhile, a team led by Shangumugham assistant commissioner Nazir expanded the probe. The police showed them two dozens of pictures of regular criminals of Vanchiyoor and Pettah stations. From that, they first identified the picture of Rakesh alias Kochu Rakesh. Then understood the resemblance of Praveen.
However, they could not identify Praveen in the first phase. Identifying one of the accused on the day the complaint was lodged, helped the police. With this, an investigation was started around Rakesh. As his mobile phone was switched off, it was difficult for the police. The investigation focusing on their friends and their mobile phone yielded results. When Rakesh was caught from Kollam, it was confirmed that the other accused was Praveen. Those who helped them was also under surveillance.
Deputy Commissioner of Police in charge of law and order, Dr Vaibhav Saxena monitored the investigation. A special team comprising Special Branch ACP M K Binu Kumar, Pettah Sudhilal, sub inspectors Niyaz, Rinox, CPOs Jayadevan, Biju, Aneesh, Renjith, Arun, Shami and Renjith Kumar led the investigation and arrest.