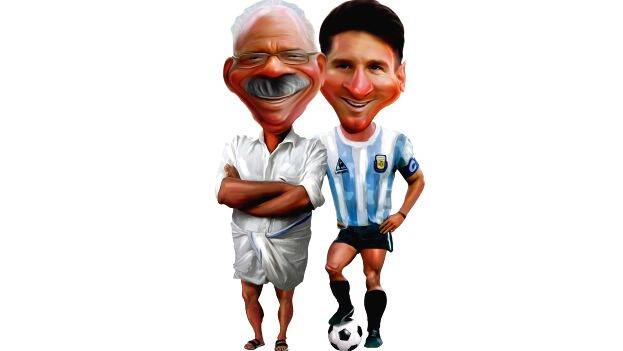 THODUPUZHA: 'Asan, why do you like Argentina so much ..? Maniyashan burst out laughing at the question, "How can you not like Maradona's own team, Argentina, the home of Che Guevara?" Everyone knows that MM Mani, a senior CPM leader, former minister and MLA, is a declared Argentine fan.
During the last World Cup, Maniyashan, who wore an Argentine jersey and played football, announced his intention on Facebook. Asan says his admiration for Maradona's team dates back to Argentina's unbeaten run in world football. After Maradona, the favorite player is Messi. Asan is confident that Messi's Argentina will beat Brazil in the Copa America final in Maracana tomorrow. Asan has taken to the FB challenging Brazilian fans that the trophy will go to Argentina this time around. Because of Asan's love for Argentina, even the CPM is now 'two-sided'. Minister Sivankutty, and Kadakampally Surendran, a former minister, are Brazil fans and had challenged Mani on Facebook. There is only one answer to all of them. 'Confidence is good to the end. Argentina for sure. "
If asked about those who criticize Argentina, Maniyasan will use Pinarayi's style. 'There will be those who will attack us, there will be those who will criticize us, and they can go their own way. "Asa has no animosity towards the Brazilians. He likes all the teams that play well. He likes Argentina more. Anyway, he's looking forward to watching the final tomorrow morning. "When I was young, there was only local games. Later, football, volleyball and cricket came. Though I like all games, I like football more", he said.