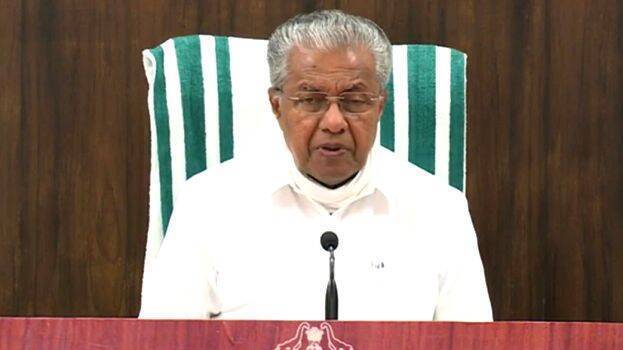 THIRUVANANTHAPURAM: Chief Minister Pinarayi Vijayan told the media that the spread of Covid in the state has not significantly gone down. "Restrictions, including lockdowns, cannot be extended indefinitely. Need to get back to normal quickly. It is important to prepare the situation for it. Concessions are being implemented in stages. Relaxations cannot be misused", CM Vijayan said.
In other states, the second wave of Covid has gone down. The situation in Kerala is not worrisome, he added.
"Do not be overly afraid. Things are under control. The second wave of Covid in other states started in mid-March whereas it started in Kerala in May. TPR even rose to 29 percent as the number of patients per day rose to 40,000. TPR has remained unchanged close to ten percent for days. The number of deaths also increased in proportion to the increase in the number of patients. In spite of the high number of patients, patients were treated appropriately in hospitals and ICUs. More than 70 percent of hospital beds for Covid have not been used. More than 90 per cent of patients were given free treatment in government hospitals. No other state has this achievement. Patients are being treated at 282 private hospitals through KASP. The government controlled the cost of treatment in other private hospitals. The government and the private sector are working together to tackle Covid, CM Vijayan added.
The risk of disease in the second wave was higher in the state. That is why the number of patients increased. Tests were significantly increased. According to an ICMR study, 70-80 per cent of people in many cities in India were infected. Death reporting cannot be done easily. The ICMR study shows that Kerala reported better than most of the other states. A study in Madhya Pradesh in May found that there were 1.33 lakh more deaths than in 2019. But only 2461 deaths were reported. There is no such problem in Kerala. During the first wave of Covid in India, a case was detected in one person when 21 people got infected. One in 30 cases was reported in neighboring states. But when there were three cases in Kerala, one was reported. That vigilance still persists, he added.
"The delta virus variant reached Kerala in the second wave. The Delta virus spread as the state is densely populated. The disease spread rapidly across the state as villages and towns continued to interact with each other. The Delta virus has limited break through capabilities in both infected and vaccinated individuals, making it possible for infected people to become infected. Many of those who are positive fall into this category. It is a relief that they do not have the risk of serious illness or death", CM said.
"Our policy is not to make everyone sick and to gain social immunity, but to prevent as many people as possible from getting the disease until they are vaccinated and prevent death as much as possible. It is an attempt at social prevention by vaccinating people. Over the age of 18, 43 percent were given one dose and 12 percent were given two doses. Kerala is completing vaccination as soon as possible. Kerala is at the forefront of distributing the vaccine without wastage. The Centre has commended in this regard. Vaccine distribution also started through private hospitals. Some hospitals also offer the Russian Sputnik vaccine. Other vaccines are expected to be available soon. It is expected that 60-70 per cent of the population will be vaccinated within a few months", CM Vijayan said.
"Herd immunity can be achieved only after at least about 70% of people over the age of 18 are vaccinated. At least 60 percent of those who become ill now have a herd immune system. At least 13 percent will be vaccinated as soon as possible. The vaccine is approved for use by pregnant and lactating mothers. If a person gets infected by Covid during pregnancy, the baby is more likely to have an early delivery. Pregnant women may need ICU and ventilator facilities if they have Covid infection. Pregnant women should be prepared to be vaccinated", he said.
Care should be taken to maintain body distance when changing the mask. Vaccinated people can be carriers. They must wear a mask. Do not use AC rooms. Make sure the window is open and ventilated. Small and large gatherings should be avoided. Large queues in front of liquor stores have become a big problem. Special counters are being set up to avoid that. Increase the number of counters in busy areas. Other scientific methods required to avoid this visible congestion will also be considered. Strong action should be continued until vaccination is complete. Only those with two doses of the vaccine or an RTPCR negative certificate within 72 hours will be allowed to take part in masapooja at Sabarimala this time. The CM said that up to 5,000 people would be admitted through the virtual queue.