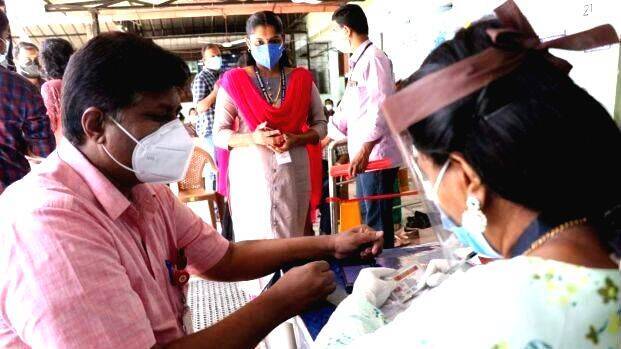 THIRUVANANTHAPURAM: There was a major increase in vaccination in the state on Monday. Minister Veena George said that 3,43,749 people were vaccinated in Kerala today. This is the first time in the state that so many people are being vaccinated a day. An action plan was being prepared and implemented to increase vaccination in the state. The state had targeted to provide two lakh to two and a half lakh doses per day.
This goal has also been achieved in some days. Often more vaccination centers and slots could not be allowed due to lack of vaccine availability. But with more than 11 lakh vaccines arriving in two days, it was decided to vaccinate as many people as possible. That is how the highest number of people were vaccinated on Monday. If more vaccines won't arrive in the coming days, there is a possibility of another shortage. The Minister also commended all the health workers who have worked hard to increase vaccination.
Today, there were 1504 vaccination centers. There were 1,397 centres at the government level and 107 centers at the private level. Thiruvananthapuram district topped the list with 46,041 people vaccinated. Ernakulam district came second with 39,434 people vaccinated. It is noteworthy that all the districts have vaccinated more than 10,000 people.
The state needs 90 lakh vaccines a month to provide 3 lakh vaccines daily. That is why when the central team came, 90 lakh doses of vaccines were demanded.
A total of 1,70,43,551 people have been vaccinated in the state so far. Of these, 1,21,47,379 were given the first dose and 48,96,172 were given the second dose. More private hospitals have received the vaccine in recent days. Their participation is also being ensured.