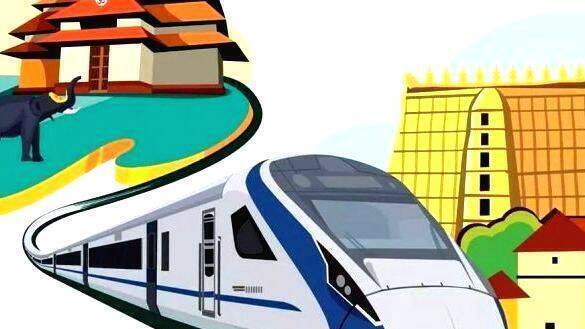 THIRUVANANTHAPURAM: If necessary the state government will take over the responsibility of the repayment of the foreign loan worth Rs 33,700 crore for the semi-high speed rail project. An agreement was reached at a project review meeting chaired by Chief Minister Pinarayi Vijayan to give a written assurance demanded by the Union Finance Ministry regarding the repayment. An affidavit in this regard will be sent to the Centre with the permission of the cabinet.
As the project has not been approved by the Center, the Union Finance Ministry has said that the loan can be sanctioned only if the state government gives a written assurance regarding repayment. If the scheme was not successful, the state was required to bear 100% repayment. The Centre had demanded an assurance that the state government will bear any loss in the future. Following this, the state government assured that if the Railway Development Corporation, which is responsible for the operation of the high-speed railway, fails to repay, it will take over that responsibility. In that case, foreign loans will be available through the central government without any central guarantee.
High-speed rail is only allowed in principle. Approval must be obtained from the Ministries of Railways, Finance, the Prime Minister's Office, and the Union Cabinet. Apart from Rs 975 crore worth of railway land, the state is also seeking a central share of Rs 2150 crore.
Kerala cannot be ignored
Centre and Railways have shares in the Ahmedabad-Rajkot semi-high speed rail project in Gujarat.
The Bengaluru Suburban Railway Project is being implemented by a joint venture of the Centre and the Railways. They both have shares in the project.
Construction and operation of semi-high speed rail are done by Kerala Railway Development Corporation, in which both Railways and the state government have shares.
The state cannot go ahead with its own railway project without central approval.
Project so far
The cabinet has approved the land acquisition in 11 districts at a cost of Rs 8,656 crore. The land will be acquired only after final approval.
3418 acres- The social impact study for land acquisition will take six months to complete
11,535 crore will be required for the compensation package. Compensation for land four times the market price
66,405 crore-Estimated cost for high-speed rail