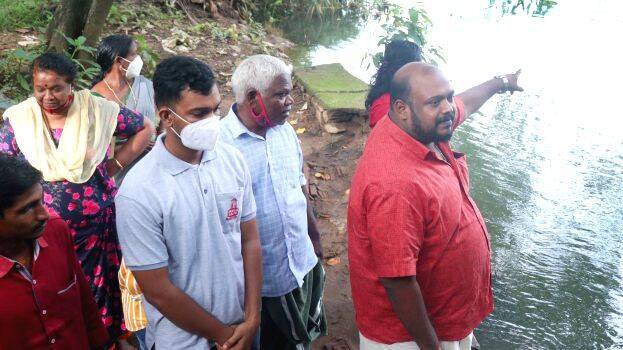 KOTTAYAM: An elderly woman who slipped and fell while washing her face on the shore of Nagampadam flowed for two and a half kilometers through Meenachil river. Her rescuers were the locals who saw her being taken awy by the river. Rajamma (82), a native of Karukachal, miraculously escaped. Mimicry artist Idayanjilimalil Shal Kottayam, mother Lali Shaji, friends Malikattumali Manoharan and Mangapallimaliil Bibin and MR Dhanesh, who live near Chungam bridge, rescued the old woman.

The incident took place at 2.30 pm yesterday. Rajamma was at St. Anthony's Church in Nagampadam for prayers. When she went down to wash his face on the shore of Nagampadam, Rajamma slipped and fell into the river. Soumya saw saw a hand near Chunkam Bridge and informed Shal who lives nearby. He and his mother Lali Shaji immediately jumped into the river. By the time they swam, Bibi, Dhanesh arrived with a boat. The boat was about to capsize, so she was made to hold the boat and brought ashore. She was then admitted to the Medical College Hospital.
The water level in the river had risen sharply due to heavy rains. They also flowed through an area about fifty feet deep. Rajamma was not a condition to speak as she had flown so far. A picture of her was taken and posted on Facebook. That is how they came to know that they are natives of Karukachal. Rajamma is out of danger, hospital officials said. Rajamma's daughter came to the Medical College Hospital.
Relatives said Rajamma left the house around 10 am yesterday. The Facebook post was found while investigating them. Rajamma is still not in a position to speak. So it is not clear what happened. The bag and other belongings of Rajamma were not found.