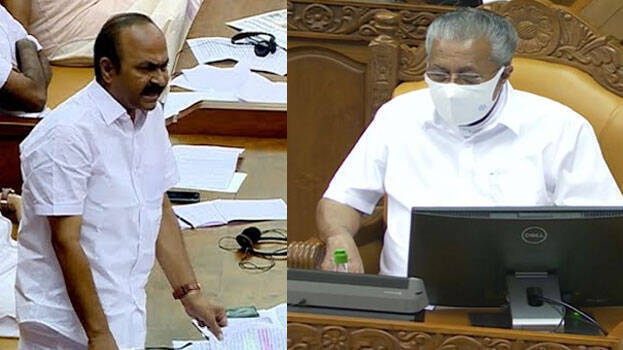 THIRUVANANTHAPURAM: The opposition strengthened their protests against Minister A K Saseendran, who courted controversy after a phone conversation between him and a party member surfaced, on the very first day of the assembly session. The opposition walked out of the assembly after permission was denied for the adjournment motion moved by P C Vishnunath seeking a discussion on the minister's intervention to settle a sexual harassment case.
Opposition leader V D Satheesan said it was not right for the chief minister to justify the minister. He has hung his head in shame. The ministers are intervening in complaints and Satheesan asked whether it was feminism.
The chief minister told the assembly that the minister just intervened in an issue within the party. The woman had lodged a complaint over a WhatsApp campaign against her in the NCP Kollam group. The two were summoned to the police station on a complaint that NCP leader Padmakaran grabbed the woman's hand. At first the woman did not appear at the station. The police chief is directly investigating whether there was any delay in registering the case, the chief minister said.
When the opposition pointed governor's fast on violence against women, the chief minister said that was a Gandhian protest and some had tried to highlight this as a move against the government. The minister intervened as a party matter. However, on the other hand it was an attempt to take it elsewhere, which the minister was unaware of. The minister has not done anything wrong, the chief minister said.
P C Vishnunath, who sought permission for the adjournment motion alleged that the minister had violated his oath of office. Saseendran should resign or else the chief minister should get his resignation in writing. Asked if an order has been issued entrusting party offices to probe the complaints, Vishnunath said the police had misled the chief minister.
The police gave a false report to the chief minister. No action was taken against the officer who did not register the FIR. The police have not even recorded the girl's statement. The news is that the minister intervened to settle a sexual harassment complaint. The minister called to ensure that there will not be any legal action. Vishnunath alleged that the minister is an executioner who tried to eliminate the harassment complaint in its infancy.
When Speaker M B Rajesh denied leave for the adjournment motion, the entire opposition walked out of the house.