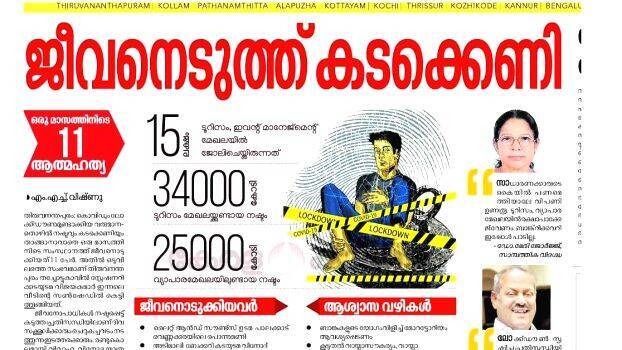 THIRUVANANTHAPURAM: With several ordinary people committing suicide due to the loss of job/income and debt created by Covid and the lockdown, the government is set to announce more relief measures for those facing crisis.
More loans will be provided to stimulate the agricultural, industrial, and commercial sectors and interest subsidies will be provided. There is a budget allocation of Rs 8,300 crore for this. Loans for Kudumbasree Ayalkootam groups and the Smart Kitchen scheme announced for housewives will be implemented soon. State Level Bankers' Committee meeting will be called for loan moratorium and restructuring.
With nearly 15 lakh expatriates finding it difficult to return to the Gulf for work, NORKA has announced that it would provide more assistance for them to start ventures in the state. Rs 50 crore will be spent soon for the rehabilitation of expatriates. An amount of Rs 24 crore has been set apart for capital and interest subsidy. For projects costing up to Rs 30 lakh, 15 percent of the capital subsidized loan will be subsidized up to Rs 3 lakh. An amount of Rs 30 crore has been set apart to provide assistance to the expatriates who have died abroad due to Covid. Financial assistance will be provided to the families of the deceased, marriage assistance to the girls, and medical assistance to the returnees. The expatriates who returned after the first wave of Covid started 800 ventures. NORKA CEO K Harikrishnan Namboothiri said that 300 ventures have been launched this year.

Meanwhile, KSEB Chairman Dr. B Ashok said that the power supply to domestic consumers will not be disconnected due to non-payment of bills. As KSEB is also in crisis, notices will be sent to those who do not pay the bill. Discounts are also available for commercial and industrial customers.