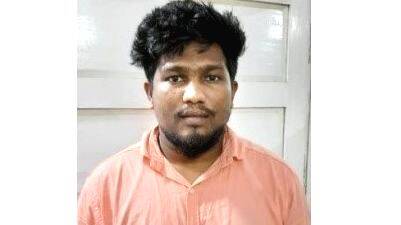 MUVATTUPUZHA: Muvattupuzha police have arrested Sudarshan (24), a resident of Ashamannur in Perumbavoor, in connection with a case of stealing Rs 25 lakh posing as a 'detective' from a person who lost Rs 8 lakh in an online scam.
He, who was in hiding, was nabbed from Idukki district near the Tamil Nadu border. The accused defrauded an Arakuzha resident, who was a victim of an online scratch card scam. The man, who introduced himself as a private detective, repeatedly demanded money in the name of taxes and for other needs of the case.
The Arakuzha native lost Rs 8 lakh two years ago. He lodged a complaint with the police but the investigation did not go well as it was a scam centered in North India. Sudarshan, meanwhile, was introduced to him through a friend. In order to make him believe, the fraudster called from different SIM cards pretending to be RBI and SBI officials. He also allegedly cheated money in the name of paying fees at RBI and the Income Tax Department. Months later, the complainant realized that the incident was a scam and approached the police. Police are investigating whether he had any accomplices in the scam.