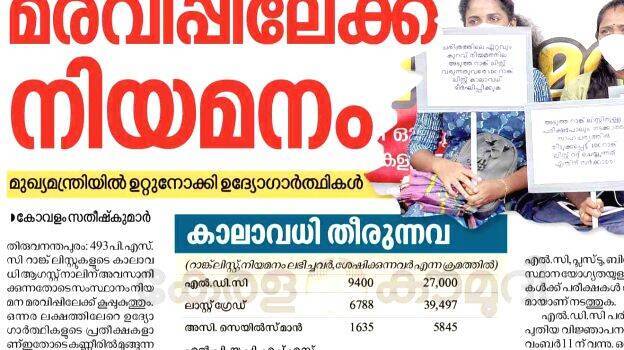 THIRUVANANTHAPURAM: With 493 rank lists expiring on August 4, candidates are alleging that there was a move to appoint temporary staff in various departments. They also alleged that many departments did not report the vacancies on time in order to appoint temporary staff.
The Civil Supplies Corporation employs the most temporary staff by excluding those on the rank list. Candidates alleged that more than 5,000 temporary employees are working in the assistant salesman position.
So far, only 1635 people have received advice memos from the existing rank list in 14 districts. Candidates allege that temporary employees were appointed in the name of display staff, packing staff, and helpers to overcome the protests of those included in the rank list. However, these temporary employees are doing the duties of assistant salesmen.
The rank lists should be extended at least given the current adverse conditions. PSC can make a decision and inform the government. The rank list has been extended several times in the past, the candidates pointed out.
Opposition leader VD Satheesan alleged that the government was taking revenge against the candidates in the last grade rank list for protesting against the government. He said that none of the suggestions made by the then minister AK Balan in the discussions with the candidates were implemented. "The government is mocking job seekers. Candidates approached the secretariat as they are in a helpless situation. Vacancies from various departments were not reported in the Covid context. Very few appointments were made when the rank list remained valid," Satheesan said. He demanded that the current list should be extended for six months as there was no other rank list.