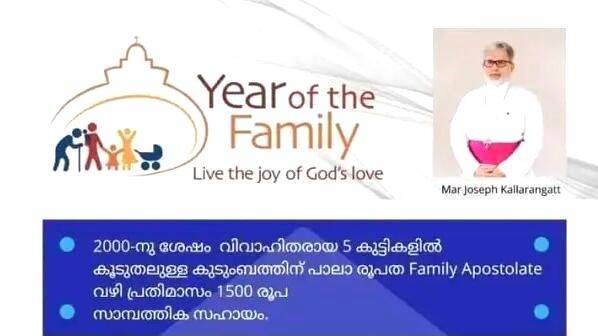 KOCHI: The Syro Malabar Church has announced its support for the welfare schemes announced by the Diocese of Palai for the families as part of 'Year of the Family' anniversary. Mar Remigiose Inchananiyil and Mar Jose Pulikal, members of the Syro-Malabar Synodal Commission, commented that this is a response of the good shepherd to the vibrations of the times and should be encouraged. Mar Joseph Kallarangatt is the chairman of the commission.

Mar Kallarangatt unequivocally states that his declaration is based on the Catholic belief that a true civilized society is one that recognizes the immeasurable value of human life. The Synodal Commission stands firmly behind his position and strongly supports it.
The Church has a pro-life policy which is formulated by all the Dioceses of the Church of Syro Malabar. The family is a unique system established for the well-being of human society. Attitudes that threaten the survival of marriage, family and children will destroy the social system. It is unfortunate that some media and some artists try to impose reactionary thinking on such matters.
The church reminds couples of responsible motherhood and fatherhood, not of having children out of control. In India, the land of brotherhood and co-operation, the general public should be genuinely concerned about societies leading to demographic emptiness.

We need to see the care given to large families as a means of preserving a given life. A church that is well aware of the value of life can reach out to families with more children so that they do not have thoughts of ruining their lives due to financial vulnerability and other hardships. The Synodal Commission also stated that the Church is participating in the mission of fulfilling the law of the Messiah by carrying the burdens of one another.