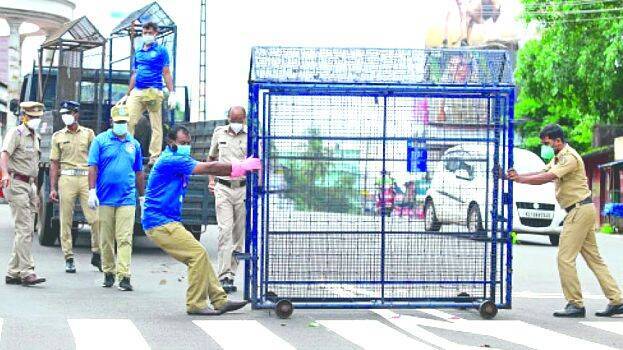 THIRUVANANTHAPURAM: The government is likely to revise the Covid protocol in order to provide relief to people who are suffering due to the Covid-induced lockdown. The weekly review Covid meeting chaired by Chief Minister Pinarayi Vijayan will make the decisions regarding the revision of the lockdown system. The decision will be taken based on a report prepared by experts headed by the Chief Secretary as directed by the Chief Minister to revise the lockdown system.
Issues raised by political parties, experts, and traders will be considered at the meeting.
However, the state government is also aware of the criticism from the Supreme Court for granting relaxations in defiance of Covid guidelines. It will also take into account the warning issued by the central team that visited the state.
The assessment is that the weekend lockdown is not useful. The weekend lockdown was imposed in the state from May 4. Due to this, a heavy rush is witnessed in shops and streets on Fridays and Mondays. This strengthened the transmission of Covid. Avoiding closing of shops on three days in a week, permission is likely to be given for the shops to open on all days and to function for more time. The health experts panel are preparing a new Covid protocol controlling crowd after avoiding closure as per the directive of the chief minister. A high panel led by the chief secretary will discuss this and then submit it at the review meet.
The expert panel is of the stand that there is no need for public restrictions making TPR rate and number of patients the only criteria. Instead, places, where the TPR is high restrictions, will be brought in after dividing it as micro containment sectors. Tight restrictions will continue for marriages, death and other public functions. Strict action will be taken for controlling the crowd. Covid tests will be doubled.
Despite the increase in the spread of the disease, there is no rise in the number of people being treated in hospitals. So, vaccinations will be intensified. Although two crore people have been vaccinated, no drop in TPR causes anxiety.

The Centre's directive is to tighten Covid restrictions in ten states including Kerala. Of that, Kerala and Maharashtra are in a more serious condition. 46 districts in the country are badly affected by the disease. Of that, eight districts are from Kerala. It has been evaluated that those diagnosed with the disease are recuperating in home and this increases the transmission of the disease. Quarantine will be made compulsory for the inmates.