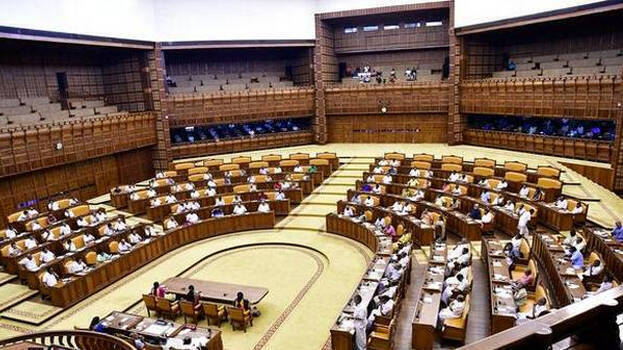 THIRUVANANTHAPURAM: The opposition boycotted the assembly proceedings Friday also based on the statement of Swapna Suresh, accused in the gold smuggling case, on the involvement of the chief minister in smuggling foreign currency. They are boycotting the assembly proceedings for the second day in a row demanding the chief minister to give a reply on the issue.
Opposition leader V D Satheesan raised the issue at the beginning of the question hour. However, the speaker reminded that opposition's demand was rejected the other day and went ahead with the assembly proceedings. With this, the opposition members stood up shouting slogans and protested by raising banners and later boycotted the proceedings and went outside.
The opposition had boycotted the proceedings on the same issue yesterday and then held a mock session outside the main gate of the assembly. The Speaker rejected the adjournment motion on the statement of the accused that the chief minister has a role in the smuggling, as the case is under the consideration of the court.
Swapna Suresh and Sarith, accused in the case of smuggling kilograms of gold through the diplomatic channel at the Thiruvananthapuram airport, testified before the customs that the chief minister has a role in smuggling foreign currency. The opposition turned the assembly a venue for protests against the chief minister after this.