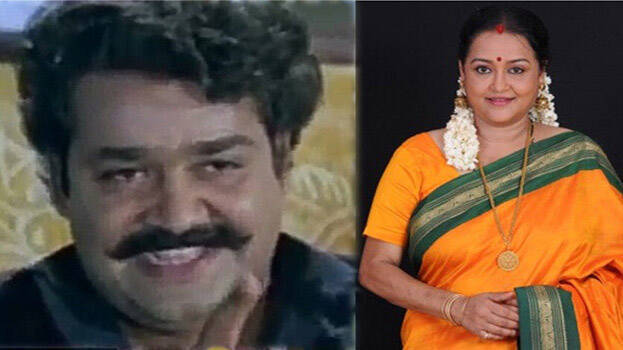 Subhadramma from Devasuram was one of the most popular character of the late actress Chithra. Many praised the actress for portraying the character well. However, in an exclusive interview with Kerala Kaumudi Weekly, she revealed that the character of Subhadramma later became a liability in her life. From an interview given by the actress months ago ...
'At first it was thought that I won't do the character of Subhadramma in Devasuram. My father was also reluctant because the role was that of a prostitute. The director Sasiyettan forced me to do the role, even though it is not that of heroine. Later, Seema Chechi also told not to miss out on Devasuram. 'Mohanlal plays the negative role of Neelakantan. So why should you be afraid of Subhadrama being a negative character?' That question had an impact on me. The movie became a super hit.

Many praised Chithra for her portrayal of Subhadrama in the film. That character later became an liability to me. There were even directors who remembered Chithra only when she portrayed sleazy characters. In the movie Kadal, she dresses up in mundu and blouse. The situation is no different in 'Praikkarapapan'. Meenakshi in 'Aaram Thampurani' is also a woman of ill reputation. The list of such characters stretched to the last movie 'Soothradharan'. When I say I can't do such characters, the directors will cut us off by saying that there are others to do it.

All I did in Tamil was do humble roles. In Malayalam, I've only acted wearing a mundu and a blouse. But this dress code is very glamorous for Tamil. Once upon a time, when a still of me was printed in a Tamil magazine, Tamil journalists called and asked why I did glamorous role. They were not satisfied with the reply that kalli mundu and blouse are the traditional costumes of Kerala. In the second half of the nineties, I was mostly offered character roles. But I only did movies that gave importance to my character. I played the role of a villain in 'Bharyaveettil Paramasukham' but the character of Durga is the backbone of the film. I did the role of Ambika in 'Ustad' due to my personal bond with Ranjith. Jagadeesh and Kaveri are the hero and heroine of 'Rajathanthram'. But the story is carried by the characters of Innocent chettan and me.