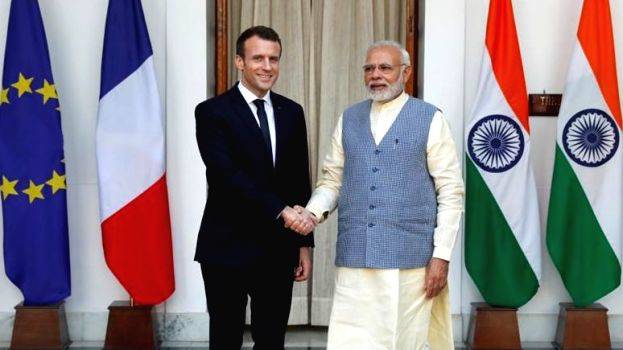 NEW DELHI: French President Emmanuel Macron on Wednesday said that the Rafale fighter jets deal is a government-to-government discussion between India and France, and the two countries have a very good partnership in Defence.

Reacting to a question by ANI in which he was asked to comment on the fact that Prime Minister Narendra Modi-led Indian government has denied any role in Dassault Aviation's tie up with private companies for Offset, Macron said: "Prime Minister Modi is right. That is a government-to-government discussion. We have a very good partnership with India on Defence. I do not want to comment on any other issues. For me, it is very important that there is people-to-people and government-to-government coalition for our security."

Earlier, Macron said that he was not in power when the deal was signed between the two countries. "It was a government to government discussion. I just want to refer to what Prime Minister (Narendra) Modi very clearly said a few days ago. I was not in charge at that time. I know that we have very clear rules," Macron said while addressing a presser on the sidelines of the United Nations General Assembly on Tuesday.

"The contract is a part of a broader framework between India and France, which is a military and defence coalition between the two countries. It's very important to me and it's a strategic coalition. I just want to refer what Prime Minister Modi said on the situation," Macron added.

The deal to buy 36 Rafale fighter jets was signed in 2016 between Prime Minister Modi-led National Democratic Alliance (NDA) government and the French government under then-President Francois Hollande.

The opposition Congress party has been accusing the Centre of irregularities in the high-profile Defence fighter jets contract, alleging that the NDA government was procuring each aircraft at a cost of over Rs 1,670 crore as against Rs 526 crore finalised by the then United Progressive Alliance (UPA) government.

The controversy took a new twist last week after Hollande, with whom Prime Minister Modi had cleared the deal in 2016, claimed that the Indian government had proposed Reliance Defence's name as the offset partner for Dassault Aviation.

The Congress has repeatedly asked the Centre to reveal the price details of the aircraft and how the rate of each aircraft has shot up. However, the government refused to share the details, citing a secrecy clause of a 2008 pact between India and France.