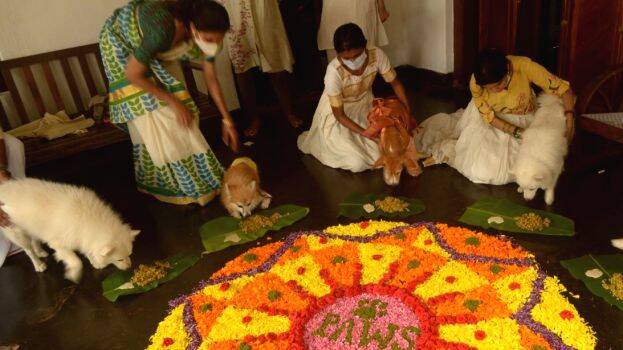 THRISSUR: Sugi and Zoya were dressed up in Kasavu. Sugi wears a gold necklace to enhance her beauty. Eddie is wearing a kasavu mundu. Then Onasadya was served around a pookkalam. Bingo and Milky joined the feast...
These are the dogs that was rescued by some well-wishers from the street. They also became stars on Thiruvonam.
Onasadya was prepared for the dogs at the West Fort office of PAWS, a group of animal lovers in Thrissur. The event was lead by Preethi Srivatsan, founder of People for Animal Welfare Services (PAWS).
The organization has been in operation for the past nine years. This is to protect endangered and abandoned dogs. The work is done with the help of animal lovers. 70 dogs have been rehabilitated in Thrissur and Kolangattukara. The organization has 50 members and volunteers.
Sugatha, Eddie, Zoya and Milky were found in Kunnamkulam, Chavakkad, Kolazhi and Paravur. Zoya and Eddie were injured in a car accident. They had fractures in their bones. Zoya underwent surgery and is now doing follow-up treatment. Milky and Sugi (Sugatha) were adopted because the owners could not look after them. Eddie, Milky and Sugatha were acquired in the years 2016,18,19. It's only been two months since they got Zoya. Milky gave birth to Bingo at PAWS.