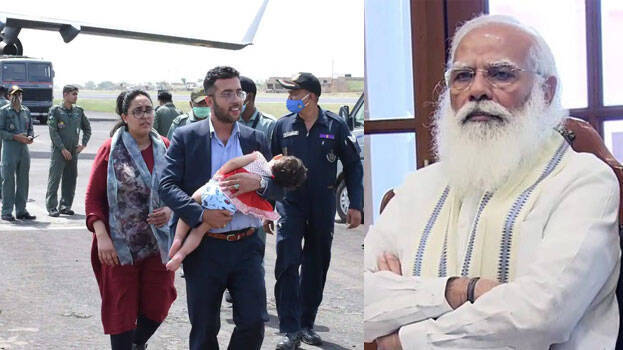 NEW DELHI: As Afghan nationals were rescued from the Taliban along with Indians and brought back to the country, unexpected protests by Afghan refugees who reached earlier were witnessed in Delhi. Hundreds of people, including women and children, protested in front of the UN High Commissioner for Refugees (UNHCR) in Delhi, demanding that they be given access to education and employment, or to find a way to live in other countries.
They also raised placards against Pakistan, which promotes terrorism.
Ahmed Ziagani, an Afghan refugee leader who lived in Delhi and other parts of India for years, said he could not work here or educate his children. Here we are neither Indian citizens nor refugees. The refugee card for obtaining an Indian visa is also not issued.
With the return of the Taliban, the central government has made it easier for Afghan nationals to apply for e-visas regardless of religion. It is for a period of six months. After that, they will also have the same fate as us, said Gani. Of the 21,000 Afghan refugees in India, 13,000 don't even have an identity card.
Sarifa and Masla, who attended the protest, said refugees should be given the opportunity to go to Canada or the US, where there are more opportunities.
India not in UN agreement
India is not a member of the UN Refugee Convention, which guarantees the welfare of refugees. Refugees from the signatory countries will receive a United Nations Identity Card. With this, you can study and work in any country.
The families of former Afghan President Hamid Karzai and Abdullah Abdullah, who led the peace talks, are in India. Karzai was also in India for many years.
Centre for Citizenship Amendment Act
The central government hopes that the new situation in Afghanistan will be conducive to the implementation of the National Citizenship Amendment Act, which guarantees citizenship to all nationalities other than Muslims in neighbouring countries. Apart from Indians stranded in Kabul, the Centre is also giving priority to bringing in Sikhs and Hindus of Afghan descent.
Figures given by protesters
There are 21,000 Afghans in India
13,000 don't even have an identity card
Figures from UN High Commission 11,000