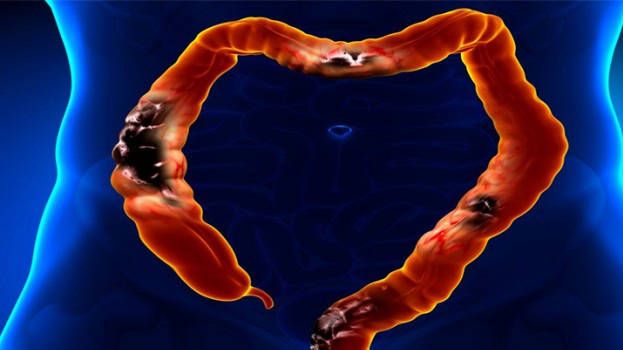 The first time he noticed blood streaks in the stool, he got frightened. He had read somewhere that rectal bleeding could be a sign of rectal cancer. Frantically, he consulted his doctor, who reassured him after a detailed examination. It was just a case of haemorrhoidal bleeding.
Many of us might have gone through such periods of extreme anxiety. It is true that rectal bleeding is the commonest and most constant symptom of rectal cancer. But not all cases of bleeding are cancerous. In fact, one in ten; or even fewer cases of bleeding per rectum has an underlying cancer. Causes like hemorrhoids, fissures and fistula are much more common, and far less dangerous. Even then, one should refrain from taking treatment for rectal bleeding without a proper medical consultation. This is because, there are situations where hemorrhoids and cancer can both be present, and the cancer was missed for the presence of a more obvious external pile mass. Hence a proper medical examination is stressed upon before treating any case of rectal bleeding.
Any bleeding is alarming, and hence most people will promptly consult their doctor. There are lesser dramatic and often nonspecific signs of rectal cancer that one should be diligent to look for - especially if you are above 60 years, or if you are a smoker, or a known case of colonic polyps or ulcerative colitis or you have a strong family history of colon cancer. These subtle signs include recent alterations in bowel habit, early morning tendency to pass mucus or blood without any stools, pain on defecation or sense of incomplete evacuation. All such symptoms must be viewed with caution and be reported to a qualified medical practitioner without any delay.
Once you consult a doctor, he might order for basic blood tests and do a finger examination of the rectum. This is a relatively painless and inexpensive testing done in an outpatient setting. Most of the benign causes of rectal bleeding can be diagnosed or ruled out by a diligent examination by a trained doctor. Haemorrhoids, however, are seldom felt by finger, and might require a proctoscopy/anoscopy for proper diagnosis.
Any confusion about the cause of the bleeding at this point warrants endoscopic examination. This is usually done in the form of a sigmoidoscopy or a colonoscopy. Sigmoidoscopy can ascertain the cause of rectal bleeding in most cases. But colonoscopy may help in showing whether there is any disease, further up in the large bowel. At these examinations, any suspicious growth or ulcer or polyp is sampled using a biopsy equipment. This is once again a painless office procedure, or might require short period of inpatient stay.
Once the disease is confirmed as cancer by biopsy, staging becomes important. This is to know the extent of disease spread in the colon and its surrounding structures, nearby lymph nodes and distant organs like liver or lung. A CT scan of the abdomen and chest will be good enough for most of the large bowel cancers, except in case of rectal cancer. Here, more detailed information will be provided by an MRI scan.
Some colonic cancers produce some chemical substances and they are secreted into the blood stream. Because such compounds are unusual or are found in very low levels in most normal people, these substances are measured in the blood and act as markers of disease burden and progression.
Carcinoembryonic antigen (CEA) is one such marker and is very valuable in detecting disease come back after completion of treatment. However, such tumor markers are ineffective in the initial diagnosis or screening of colon cancers.
PET CT scan is also a very good tool in assessing spread of disease to the whole body, but its use should be restricted to very specific clinical situations and only as deemed necessary by the treating doctor.
Treatment
Colonic cancers are primarily treated by surgical removal of the affected segment of colon with nearby draining lymph nodes. The approach to surgery may vary between open surgery, laparoscopy or even robotic surgery, but the essential principles remain the same. Colonic resections are relatively straightforward procedures, except when there is advanced disease fixed to the surrounding structures.
But rectal cancers are managed in a different way. The closeness of the rectal tumor to the anal sphincter is very crucial in its management. In the past, many such cases necessitated removal of the entire disease along with the anal sphincter and resultant permanent colostomy, i.e, the normal anal passage will be closed for ever, and the patient will have to alternatively pass motion in to a bag fitted on to the abdomen. The magnitude of this problem could be reduced by treating the patient with radiation with or without chemotherapy to reduce the bulk of the disease, and then operation led to better disease control and more preservation of anal sphincters. More patients are now being managed by this integrated chemo-radiotherapy + surgery protocol. Multidisciplinary discussion and planning are very essential in devising such state of the art treatment, and the benefit to the patient is tremendous.
Once surgical removal is undertaken, the tumor is examined in detail by the pathology to ascertain the stage of the disease and some indicators as to the chance of the disease coming back. Based on these factors, the decision to give chemotherapy or not is arrived at.
As a general rule, any patient with lymph node positive disease or any high risk features is offered the benefit of chemotherapy. Chemotherapy in colon cancers is generally well tolerated with acceptable side effects.
Follow up
All colon cancer patients need to undergo long term regular follow up because of two reasons. There is chance of developing second cancers along the colon, and when found in early stages, such cancers are easily curable. Quarterly clinical assessment and blood tests including CEA, and annual colonoscopy are components of regular follow up.
Most cases of early stage colonic cancers are curable with surgery alone, while many advanced cases remain under control with surgery followed by chemotherapy. Even in those with disease spread into liver, many have long term disease control or even cure with the present day multidisciplinary treatment.
Rectal cancers fare a little worse, with more chance of local recurrence, and significant treatment related issues in the quality of life like presence of stoma, fecal incontinence, urinary incontinence, bladder and sexual dysfunction etc. Survival is also lesser for rectal cancer compared to other sites of cancers in large bowel.
In summary, colonic cancer is potentially detectable in early stages if anybody with suspicious symptoms like rectal bleeding approaches a doctor in time and subjects oneself for prompt evaluation. There is no need to panic, however, as in most of the cases; the bleeding may be due to non-cancer causes. Diligence is the key.

Dr. Sandeep B Pillai
Consultant - Surgical Oncology
KIMS Cancer Center
Trivandrum