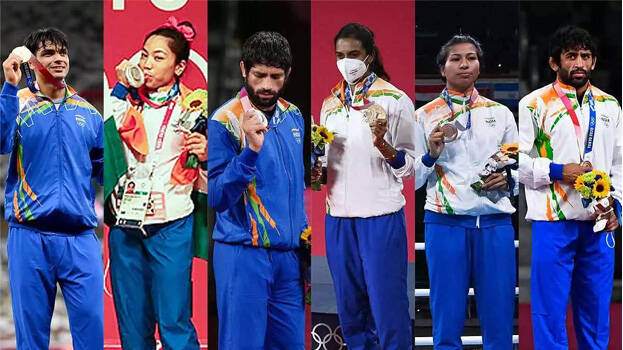 For the first time India has won seven medals in Olympics. Representing India in the Tokyo Olympics 2020, 129 athletes took part in 69 events. There could be a question whether India, which has a population of more than 130 crores, should win only seven medals in the greatest sports meet in the world. Surely not. However, compared to India's performance in the previous meets, it is far better this time. True to the spirit of the Olympics it is faster, higher and longer. The 130 strong population had its heart in that javelin while it flew in the air and landed 87.58 metres away from Neeraj Chopra fetching him a gold and fetching India glory. It brought tears of joy to some eyes. Neeraj Chopra was making a page in the book of history for India. This was the first medal this time and it was a gold medal. This was the first gold after Abhinav Bindra in individual events. When the Indian National Anthem was heard in the arena, it too went into the annals of history. Javelin throw was the last event India participated in. Winning the gold, Neeraj Chopra called it a day for India.

India glorified itself with a sterling performance with one gold, two silver, and four bronze medals. It was Mirabai Chanu who entered India in the list of medal winners first. She won a silver for weight lifting in the 49 kilo category. Her winning a silver also has the brilliance of 21 years of waiting for a medal in that category. P V Sindhu shot to fame as she won a bronze in badminton. Personally, it should make her proud as it is her second consecutive medal in the Olympics as she is the first woman and the second Indian to do this magic. Winning a bronze, Lovlina Borgohain from Assam held up the legacy of Bijendar Singh and Mary Kom who also had bagged medals in boxing in previous meets. Ravikumar Dahiya was lifting India's pride and glory as he won his silver in his first Olympics itself in wrestling in the freestyle 57 kilo category. He is the seventh Indian to win a silver medal in individual events. Though it was expected that Bajrang Punia might win a gold in wrestling, India had to be satisfied with a bronze he won. He had fought his way very well at every level. He wouldn't have been able to contain the pressure on him. However, he wrestled a bronze from Daulet Niyazbekov of Khasakistan.
India's winning a medal in hockey after a long wait of 41 years has revitalized the field. This was the fifth medal India won this time. Kerala too had its fair share of pride and glory as P R Sreejesh, a Keralite played a decisive role in this.

There is no way India which has a population of 130 crores should sit on the laurels after winning only seven medals in the Olympics. It is a matter worth debating why India, which is racing ahead in several walks of life, is lagging behind in sports.
Corruption and favouritism used to be the main events in Indian sports so far. A thorough cleansing was done only very recently. For this the honor should go to the present government under Narendra Modi. The seven medals India has won in Tokyo Olympics are ample proof that the Target Olympics Podium Scheme initiated by the Narendra Modi government in 2014-15 is on the right track.
The star studded unprecedented achievement tells the success story of TOPS which is one of the dream projects of the central government. This project has made it possible to find the prospective medallists from among the young athletes and sportsmen from the nook and corners of India, provide them with quality coaching by hiring experts from abroad, employ enough support staff, and avail of the service of doctors and psychologists.

TPOS is sponsoring more than one hundred athletes including Neeraj Chopra, P V Sindhu and Mary Kom. More vitality and energy will be pumped into the veins of India Sports as the team proudly brings home seven medals which is an all-time record showcasing the willpower, determination and vision of the present government. We have good reasons to hope that this is only the inaugural ceremony.