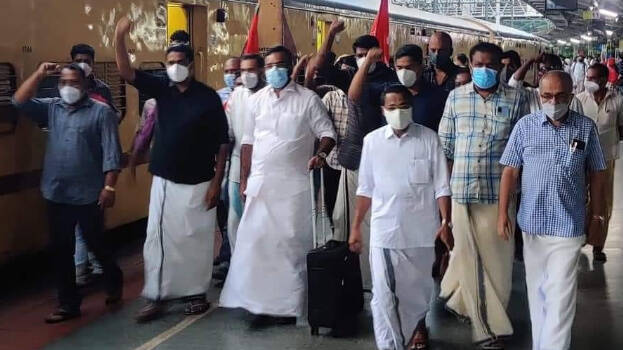 KOZHIKODE: A grand reception was accorded to K P Anil Kumar, who left the party following differences of opinion with the congress and joined the LDF, at the Kozhikode railway station by the CPM activists. The reception was led by CPM Kozhikode district secretary K P Mohanan. Apart from Mohanan, other noted CPM leaders reached the station to receive him.
After a reception at the railway station, he was given a reception at the district committee office. In the press meet convened later, he levelled harsh allegations at the congress leadership. He openly said K Muraleedharan has no right to tell him about discipline. A man who called Sonia Gandhi 'madamma' (foreign lady) and Ahmed Patel as 'Aluminum Patel', what right does he have to talk about discipline. He told the media that he is not a Congressman now and that he is getting used to the discipline of the cadre party.
The CPM sees Anil Kumar's entry into the party as the best weapon to use against the Congress in Kozhikode. Therefore, it is understood that the party has been instructed to reach out to as many people as possible.
Anil Kumar had already levelled several allegations against the Congress leadership in Kozhikode. The party has decided to use Anil Kumar to strengthen its attack on the Congress at today's press conference and in the coming days.