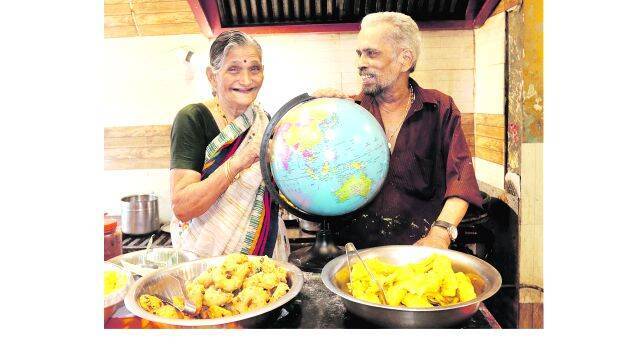 KOCHI: At the age of 71, tea shop owner Vijayan will be traveling to Russia with his wife. Along with attending the October Revolution Anniversary, he also hopes to meet with Russian President Vladimir Putin. Vijayan says that an attempt is being made for that.
KR Vijayan and his wife Mohana (69) from Kadavanthra Gandhi Nagar are world famous for their travels from the income of a small tea shop. After a two-year hiatus, the two will travel to Russia on October 21. The couple will visit St. Petersburg and Moscow and return on the 28th.
The chance for Russia trip came when the couple was having doubts about whether they would make another trip due to health issues. This couple who have previously traveled to 25 countries was encouraged by personalities like Anand Mahindra, Amitabh Bachchan, Anupam Kher, Shashi Tharoor MP and many other celebrities and institutions through small and large sponsorships. Russian trip is one such sponsorship. A leading travel group and tourist insurance company have chosen the couple as their brand ambassadors. There is still a lot of world travel left through this.
Vijayan has been a traveler since childhood. He has done many trips including travel to major shrines in India. The world tour began in 2007. After marriage, his wife accompanied him on the journey.
The journey is supported by their children Shashikala V. Prabhu and Usha V. Prabhu and his son-in-law Jayaram P. Prabhu and Muraleedharan Pai.
First trip abroad
An 18-day visit to Vishudhanadu with Swami Sandeep Chaitanya in 2007. The cost for both was Rs 3 lakh. Later he made several trips by borrowing, chits and mortgaging gold.
So far
25 countries, 75 flights. Visited Tirupati 170 times.
Tea shop
'Sree Balaji Coffee Bar' is located in Gandhinagar, Kadavanthra, Kochi. It has been 47 years since Cherthala native KR Vijayan came to Ernakulam. The tea shop was started 27 years ago.
The journeys will continue until death. The desire to see the world is not over, nor will it end.
-KR Vijayan