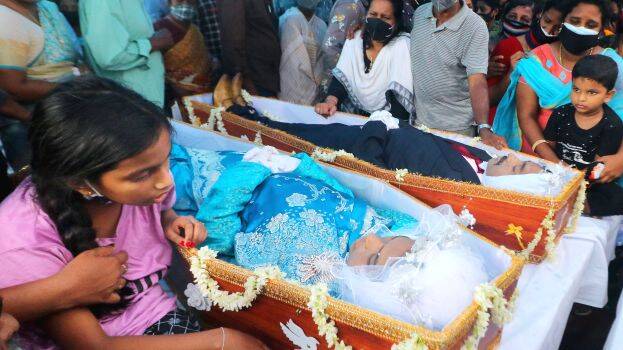 KOLLAM: Even though they knew that their father and mother, who were lying motionless in the tent set up in front of their house, would never wake up again, the children called out their names and burst into tears.
The bodies of Dennis (45) and his wife Nirmala (34), of Kottiyam Vadakke Mylakkad Vilayil, who died in a bike accident while crossing the road at Pazhavangadi in Thiruvananthapuram, were brought home yesterday. Those gathered around cried when their twelve-year-old daughter Denila and four-year-old son Diane's eyes filled with tears. For the past two days, the children, who had to witness their father and mother being hit by a speeding bike, have been burning with pain. Dennis' mother Delphina, brothers Derry and Merly, Nirmala's parents Laila and Yesudas and brother Shinu also broke down into tears.
The bodies, which were kept at the Holy Cross Hospital in Kottiyam, were first brought to Dennis' family home in Mayyanad yesterday afternoon. It was brought home in the Vadakke Mylakkad Vilayil House after being put on public display for half an hour. The bodies were buried at St. George's Church in Vadakke Mylakkad at 5 pm.
Dennis, who has been a driver in Abu Dhabi for 13 years, returned home last Thursday. The accident took place on Wednesday while returning home in a car after undergoing treatment at a private hospital in Thiruvananthapuram for leg pain. The speeding bike hit them while the two were holding hands on the roadside to go to the medical store on the opposite side to buy medicine after parking their vehicle. Nirmala's father Yesudas and maternal uncle Sinoj were in the vehicle at the time. Dennis died on their way to the hospital and Nirmala passed away Thursday morning .