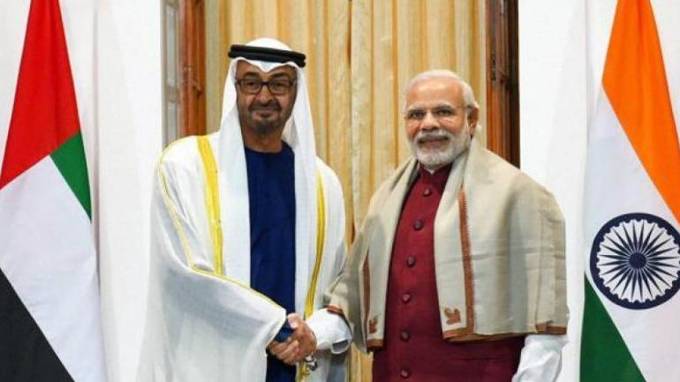 Prime Minister Narendra Modi has been conferred the prestigious Zayed medal by President of the UAE Sheikh Khalifa bin Zayed Al Nahyan.
UAE on Thursday honoured Prime Minister Narendra Modi with the highest civilian award for giving "a big boost" to bilateral relations between both the countries.
The Order of Zayed, which is awarded to Heads of Government/Head of State for their international relations with UAE, has gone to PM Modi this year. The crown prince of Abu Dhabi Mohamed Bin Zayed tweeted, "We have historical and comprehensive strategic ties with India, reinforced by the pivotal role of my dear friend, Prime Minister Narendra Modi, who gave these relations a big boost. In appreciation of his efforts, the UAE President grants him the Zayed Medal."
The 'Order of Zayed' is the highest civil decoration instituted by the UAE. It consists of a collar cantered by a medallion bearing the name 'Zayed' - the founding father of the United Arab Emirates.
In the past, this award has been conferred to the likes of Russian President Vladimir Putin, then US President George W Bush, Nicholas Sarkozy when he was President of France, German Chancellor Angela Merkel, Chinese President Xi Jinping and the UK's Queen Elizabeth II.
A statement said PM Modi has provided "exceptional leadership" in forging a new "strategic" relationship between the two nations.
Lauding Modi's foreign policy and the way New Delhi reached out to the Islamic world, the statement said, "As an international statesman, he has given a new direction to this relation and today, India's relation with the whole Islamic world is at its best.
At a time when India goes to polls, UAE has endorsed Modi's policies of "inclusiveness". The statement said, "In India, he has given a Government/Administration which is for all and includes everyone in such diverse country having people with different religion, different language and different culture."
The Crown Prince not only reached out to the Indian government and the large diaspora in UAE but also to the general public in India by repeating his tweet in Hindi as well.
Apart from giving a boost to India-UAE ties, this will be a huge boost for PM Modi as he battles it out at the hustings.
This also comes at a time when both countries are engaged to see if Prime Minister Modi will travel to Abu Dhabi on April 20 for the opening of Abu Dhabi's first-ever temple BAPS Hindu Mandir.