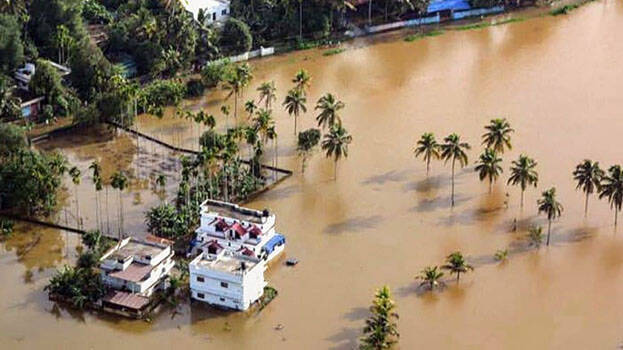 Kerala is yet again facing a natural calamity that befell unexpectedly. The people of the state are remaining helpless as heavy rain once again wreaks havoc in various parts of the state. Twenty-seven people lost their lives in floods and landslides in Kottayam, Idukki and Pathanamthitta. There are also districts that have been badly affected by the rains. Weather experts attribute the heavy rains to light cloudbursts. Since the 2018 floods, the state has been witnessing floods and landslides every year. This year's landslide and flash floods happened even when the state was struggling to overcome the impacts of the natural disasters in the previous years. Kerala, which is known for its natural beauty, is changing in a dangerous manner every year. Along with climate change, indiscriminate land use is accelerating natural disasters. Aren't these frequent natural disasters are the punishment given by the nature for insanely exploiting soil and mountains. These warnings underscore that the time has come to change the lazy and indiscriminate approach towards nature. More than 500 people have lost their lives in natural disasters in the last five years. The damage to property caused by floods and landslides is enormous. Several people who lost their homes in the 2018 floods are yet to get a proper shelter.
Humans cannot prevent natural disasters. All that can be done is to protect people from the ravages of disaster. This is a big challenge for the government and the government system. The service of those who worked day and night to recover the bodies of those who went missing in the landslide will always be remembered. The efforts of the locals who assisted them also deserve special mention. During such a catastrophic time, the human community conveys a great message by forgetting everything and unanimously engaging in rescue operations.
Thousands of people are staying in temporary relief centers in flood-hit districts. When the water recedes, most people will return to their homes. Some don't have any shelter to return to. They lost everything in the flood. Authorities should make necessary arrangements to complete the rehabilitation of such persons on a war footing. The financial assistance of Rs 4 lakh announced by the government for the families of those who lost their lives is very meagre. A more humane approach is expected from the government.
Many are criticising that despite the frequent natural disasters, no lessons have been learned in dealing with them effectively. Disasters can be said to be unpredictable. However, preparations for dealing with them do not require anyone's permission. Experts have been calling for restrictions on land use in environmentally sensitive areas for several years. Disasters like this will continue to occur if uncontrolled sand mining, quarrying and other encroachments are not prevented. The best way to deal with natural disasters is to protect nature and its habitats.