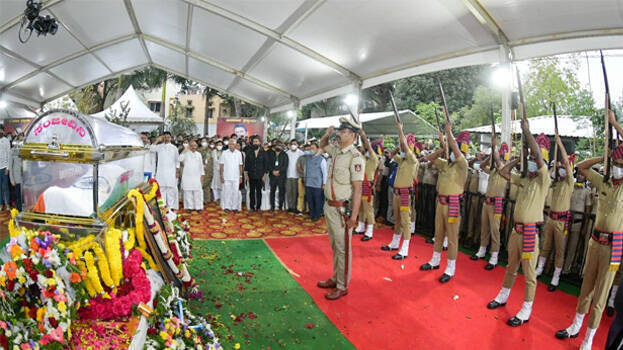 BENGALURU: Kannada actor Puneeth Rajkumar, who died on Friday, was laid to rest Sunday morning. He was laid to rest with state honours next to his parents Dr Rajkumar and Parvathamma Rajkumar at Kantheerava Studio. His daughter who was in the US reached Bengaluru last night. After the public homage at Kantheerava Stadium at 4 am, the body was taken to Kantheerava Studio in a procession. He was laid to rest after final rites conducted at Kanteerava Studio in the presence of his family members, friends and ruling and opposition leaders of all political parties in Bengaluru. The final rites were conducted as per the traditions of Ediga community of the Hindu religion.
A decision was taken to hold the funeral in the morning as per the request of the government. The authorities feared that the arrival of fans could lead to law and order problems. Apart from his family members, Karnataka Chief Minister Basavaraj Bommai, former chief minister Siddaramaiah, celebrities Yash, Ravichandran and Duniya Vijay were present at the funeral.
The funeral was held in the morning to avoid the crowd, but large crowds were seen in the videos. Many fans were standing on the terraces and trees of the houses near Kantheerava Studio to get one last look of their beloved.
The actor aged 46 after suffering a cardiac arrest on Friday.