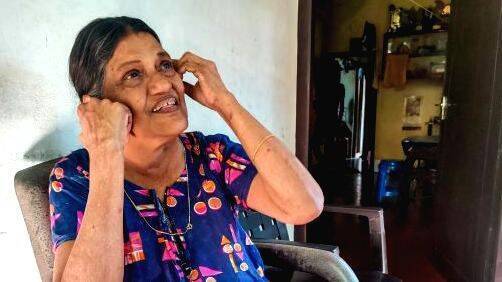 KOZHIKODE: Singer Machattu Vasanthi, who sang the popular song 'Pachapanamthathe punnaarapoomuthe', is in dire straits as she is tormented by disease, old age and poverty. She does not have any money for her treatment. Due to poverty, she was forced to shift houses several times. Her current home is facing a foreclosure threat.
The 78-year-old Vasanthi, who started singing at the age of 9, has sung thousands of songs in movies, plays and on All India Radio.
She sang the song 'Pachapanamthathe punnaarapoomuthe' from the play 'Nammalonnu' when she was 13 years old. The song, which was penned by Ponkunnam Damodaran, was composed by Baburaj.
Her hit film song 'Manimaaran thannathu panamalla ponnallaa..', from the film 'Olavum Theeravum', was also composed by Baburaj.
Vasanthi is the daughter of singer and radio artist Kannur Kakkad Machattu Krishnan and Kalyani. She started singing revolutionary songs at the Communist Party stage at the age of nine. MS Baburaj, who was in the audience at the time, noticed her and was introduced to the world of drama and cinema.
Vasanthi sang her first film song for the film 'Thiramala' which was also Baburaj's debut film. However, the film did not release on theatres. Soon, she got off to a good start by singing two songs for the film 'Minnaminungu'. Though she received several offers after that, her father was not able to take her to Madras frequently. Vasanthi stayed in Kozhikode and focused on dramas.
She later became an actress through the play 'Ningalenne Communistaakki'. Her long journeys came to a halt following her marriage to Balakrishnan, a cinema projector operator. When her husband died at the age of 48, she was left with a debt of Rs 8 lakh. Soon, she started travelling to various places to sing for dramas. However, there was no one like Baburaj to give her a chance in cinema.

Vasanthi has two children. Her son Murali Chelari is a contract worker at the IOC plant. Her daughter Sangeetha, who got married, is staying with her now.