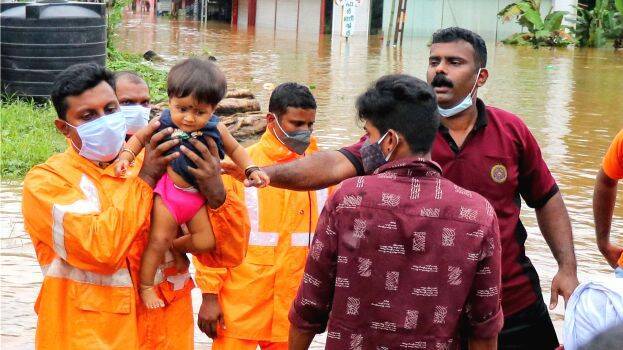 THIRUVANANTHAPURAM: Heavy downpour continues in many parts of the state leaving four dead in Thiruvananthapuram, Ernakulam, Kannur and Thrissur. A shutter of the Cheruthoni Dam of Idukki reservoir was opened as the water level increased following heavy rain. The shutter number 3 of the dam was raised by 40 cm. Even after this, there is no visible drop in the water level. As the water level in the Mullaperiyar Dam reached 141 ft, it is likely to open as well. Chief Minister Pinarayi Vijayan, in an urgent meeting of the district collectors, has directed to remain vigilant as there is a possibility of heavy rains in the next three days as per the warning of the Indian Meteorological Department.
A lorry driver was killed in a landslide triggered by heavy rain in Kalamassery. The deceased has been identified as Thiruvananthapuram Udiyankulangara native Thankaraj (72). The incident took place near the Appolo Tyres in Kalamassery. Thankaraj was standing on the road when the incident took place. A three-year-old boy died after falling into a pool of water near his house while playing ball. The incident took place at Irikkur in Kannur this afternoon. Nasal (3), son of Parammal Sajid residing near Kunjipalauli in Pedayankode, died in the tragic incident. The body of Lalithbhai (72), a native of Pashuvennara in Kattakkada, was found in the Palakkadavu area in Neyyar. She was missing for three days.
Aarom Heaven, son of Bensin and Bensi of Alankarathuparambil, died after falling into the Anakkachira stream.t Bensi jumped into the stream in a bid to rescue Heaven but was swept away. She was later rescued by the locals. Heaven's body was found by the evening.
Ernakulam, Alappuzha, Thrissur, Kottayam, Pathanamthitta and Kollam received heavy rainfall on Sunday. Tourism centres in several districts are banned from allowing guests. Landslides were reported in Kalleli, Murinjakal, Kodumann, and Enadimangalam in Pathanamitta. 11 houses were partially damaged. There are no casualties. Night time travel to the hilly areas of Idukki is banned.