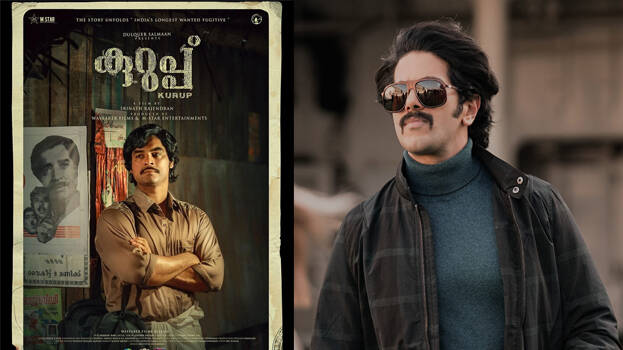 Dulquer Salman's 'Kurup' has hit the theaters after a long wait. Kurup, which came to the theatres after the Covid induced lockdown, was well received by the Malayalee audience. Tovino portrayed Chacko, the victim of Sukumara Kurup's cruelty, in the movie as 'Charlie'.
Dulquer's FB post:
"Tovino Thomas The mother of all Cameos. When one of our biggest stars/talents tells the director he wants to play the role of Charlie it gives me the kind of joy that I can't describe. We are a small industry and when we come together and support each other we become a force. Tovi you were an absolute delight in Kurup. The way you played your role took our collective breaths away. It had innocence and hope and vulnerability. And the way you looked your part it took many viewers a second glance to recognise you.
We have not mentioned you in a single promo or poster because we wanted to keep you as our biggest surprise. And you have been such a gentleman through all of it. For all of this and for being a friend and being the same from the time we met. I thank you from the bottom of my heart. We at Wayfarer Films thank you for being a part of us. We are all rooting for you always. Let Minnal be as thunderous as it is Lightning. Love always."
Tovino, who surprised the moviegoers in a cameo role, has not been mentioned in any of the movie's posters or promos. Tovino also did not reveal any details. Dulquer Salman made this clear on social media, to which Tovino replied. Dulquer said he was overjoyed when Tovino asked the director to do the role of Charlie. Dulquer says Tovino did Charlie's role beautifully. Dulquer also wished Tovino's 'Minnal' to be as thunderous as lightning. Tovino said he was pleased with role of Charlie in the film and is happy with the film's success.
Tovino's FB post:
My brother Dulquer Salmaan,
To play one of the most pivotal roles like Charlie, in Kurup's tale was an honour and felt absolutely surreal and satisfying ! Super happy for you , the entire team and Wayfarer Films for the smashing success of #Kurup. The numbers definitely indicate how it has helped to bring back the audience to theatres. Thank you for having me on board to play this character, for these sweet words and also bringing back the movies! Wishing bigger success to all the charm n swag you have brought about in the film. Thank you brother !