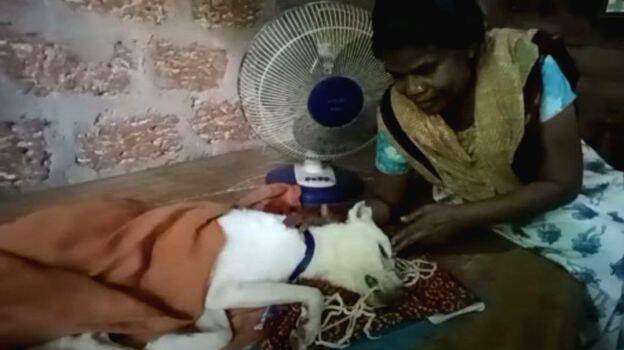 THRISSUR: Here we have a sad story to tell you. The story of Kunjan, the dear and loving pet dog of Sita from Thrissur district of Kerala. The entire family and even the neighbours are now praying for Kunjan.

Sita and her family, who lives in a small house at Velappaya China Bazar in Thrissur has been keeping this cute doggie, which is an Indian breed.

Kunjan has now lost his mobility. His body appears to be paralysed. Only that life breath remains in him. Sita tries to force-feed him, but almost in vain. A few weeks ago, Kunjan was taken away by some workers sent by local body authorities to sterilize him as part of the Animal Birth Control programme.

And when he returned after so many days, there was just life in him. Sita took her dog to a number of doctors in the locality as she very much wanted to see him back to his normal life, eating and playing around like he used to be.

Those who had taken him for sterilisation had dumped him on the road side. Somehow he managed to reach Sita's house.

At the first look, Sita sensed some serious trouble…some medical negligence. Though she called him towards her and gave some food, he ate very little and after that developed cough and fever. Soon he collapsed and lay like a lifeless being.

Sita, who is a cleaning staff, even sold off her golden earring to treat her Kunjan. She goes for work in the morning. After finishing her job, she rushes to be near Kunjan to take care of him.

Sita has kept her Kunjan in her bed room. Fan and other arrangements have been provided in the room for the him.

Sita is now hoping against hopes to see her Kunjan recovering. Seeing the sad state of Sita and Kunjan, the neighbours are also praying sincerely for his recovery.