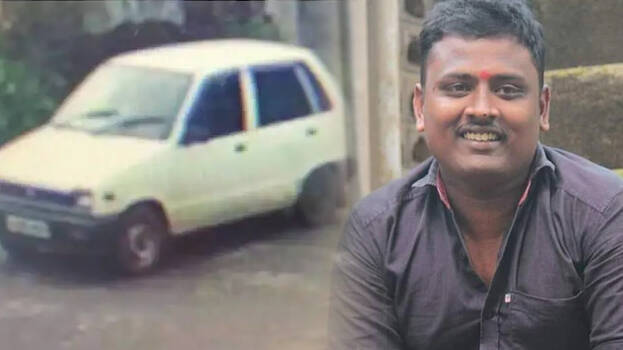 POLLACHI: The car used by the gang that killed the RSS worker in Palakkad was found demolished before the police arrived. The investigation team reached Pollachi after receiving information that the Maruti 800 car in which the accused were traveling had been smuggled into Tamil Nadu. But the workshop owner said the vehicle was ripped open the day before they arrived. The probe team found the car's doors, tires and engine removed.
The workshop owner said that the white car was brought by two people for demolition last Wednesday and that there was no other suspicion as the documents including the RC book were shown. The car was brought from them for Rs 15,000. The car was cut open but police have collected various parts of it. The next steps will be taken after a detailed examination by a technical expert. Police also received CCTV footage of the vehicle being taken to a workshop. The investigation team collected footage of the shop near the workshop.
On November 15, Sanjith, an RSS activist, was hacked to death by a gang in a car at Mambaram in Elappully in Palakkad. Police had arrested two Popular Front leaders in connection with the incident. After the murder, the accused fled to Palakkad-Thrissur National Highway in a Maruti 800 car. They went to a workshop after the car was damaged but did not get it repaired quickly. The group then parted ways from here. The accused had earlier bought the car and kept it at a house in Anakkappara in Vadakkancherry.