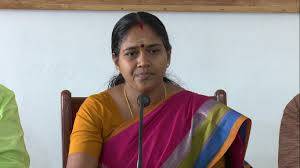 THIRUVANANTHAPURAM: Attingal NDA candidate Shobha Surendran has made a scathing attack on Chief Electoral Officer Teekaram Meena, saying that she would not allow him to do the job of a clerk in AKG centre. She added she was ready to turn a martyr for Lord Ayyappa.
She was speaking at Ooruttambalam junction that lay under her constituency.

"Teekaram's stand was to protect the CPM and the Pinarayi government and on other hand he threatens to send notice against chanting Lord Ayyappa's name.

Tens of thousands of Ayyappa devotees were booked for chanting Saranam as part of their agitation for retaining tradition. Thousands of persons were jailed and thousands are still in jail. Still Teekaram says that we should not chant Ayyappa's name," she said.

Shobha Surendran said that the government was given a freehand by the chief electoral officer to file case against candidates without summons and even after filing nomination. "In PSC questions the name of the lady who first breached tradition was asked…nobody complained but if the BJP candidate sounded the name of Ayyappa, a case will be filed against him. Now what Teekaram says is, if anything is said about the government's breach of tradition, about the police who gave their protective gear to the woman who tried to breach tradition or about the Congress who remained mute spectators, we shall be hanged to death.." she said sarcastically, adding that she was ready to sacrifice her life for Lord Ayyappa.