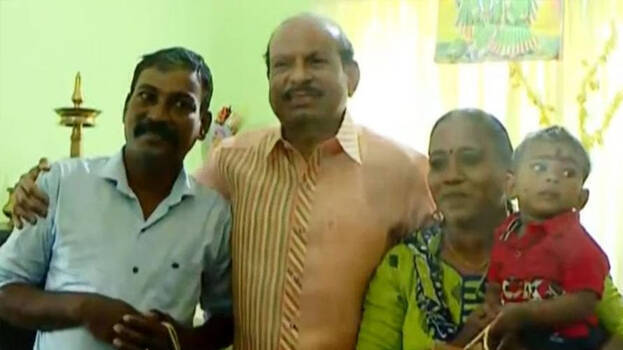 KOCHI: M A Yusuff Ali, Lulu Group chairman visited the family who rushed to help him when he met with a copter accident in Kochi. The copter made its landing at Panangad. Rajesh Khanna and his wife A V Biji, a civil police officer of Panangad station, residing nearby rushed to the spot first. Yusuff Ali came to see them on Sunday.
The chairman came with a lot of gifts to present them. He left after spending some time with them. He had promised to meet them.
He could not meet them earlier as they were confirmed of Covid-19. He said that he had come once after that but could not meet them due to some reasons.

Yusuff Ali said what both of them did was of a great help. I couldn't walk then. All helped me to disembark from the copter. He expressed gratitude for the humanitarian love they provided. Whatever is given will not be enough for the help done, he said.
The copter carrying Yusuff Ali and his family met with the accident on April 11 this year.